Hotels in Blackpool
Our top picks
Lowest price first
Nearest to
Best reviewed
Fast facts about Blackpool, United Kingdom
| | |
| --- | --- |
| Accommodations | 1,664 properties |
| Popular hotel | Norbreck Castle Hotel |
| Popular area | Blackpool City Center |
| Nightly rates from | $13 |
| Airport | Blackpool Airport |
4-star hotels in Blackpool
8.8 Excellent
Based on 24 reviews
---
One of the best hotels I've stayed in
---
Hotel staff very professional and friendly. Hotel spotless room had great views of blackpool. Would love to visit again
9.8 Exceptional
Based on 2 reviews
---
The best ever hotel in Blackpool, highly recommended to choose it. Nice breakfast with friendly service, love it so much
9.6 Exceptional
Based on 10 reviews
---
Thank you very much for all you have done for us, we really enjoyed our stay and it was a pleasure meeting you all. We loved our room, it was spacious even with a baby cot next to the bed as we traveled with a toddler. Its a very clean Hotel. The breakfast is excellent and very delicious! Staff is fantastic and very helpful. I would recommend it to family, friends and...
8.7 Excellent
Based on 5 reviews
---
The hotel is inexpensive and I was greeted by my host Paul who was very friendly. The rooms are quite small but have must convenience you could need . Tea , coffee etc. However the bedding had not been changed prior to my arrival and there were hairs on sheets and pillows. The towels I was supplied at start of the stay were not changed the whole duration. On the Wednes...
---
This hotel is lovely both inside and out, the architecture is fab. The rooms are comfortable and basic but reflect the price. Based in a quiet location on the sea front away from the hustle and bustle of Blackpool but within a short walk away. The bedrooms and bathrooms feel a bit tired there were a few flys and some mould around the bath handles. The rooms are comfort...
10 Exceptional
Based on 3 reviews
---
Cracking B&B best been too in Blackpool by a mile Steve an Elaine were brilliant host breakfast were awesome choices for wife aswell who is a veggie , hotel is completely spotless good wifi great location .and car parking if needed .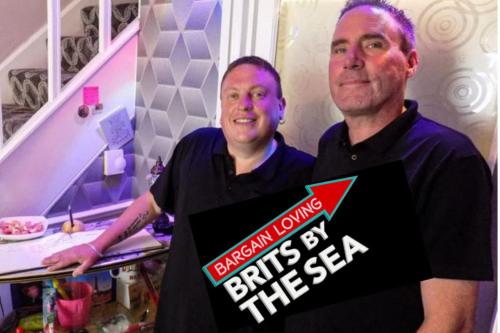 9.7 Exceptional
Based on 4 reviews
---
Great room, good location would recommend.
6.7 Good
Based on 2 reviews
---
As we couldnt stay there as the firm I booked through called Agoda double booked us but didnt make that clear from their email back to us several days later, I cant write a review apart from the fact that the owner, I think his name was Phillip was more than helpful regarding the mess of the booking and even contacted us a few days before we were due to go because our ...
---
Luxury hotels in Blackpool
8.6 Excellent
Based on 2 reviews
---
Our stay here was absolutely perfect never been anywhere better so far. However could provide a few more basic supplies in the kitchen I.e salt. Pepper. Dishwasher tablets. Although a pan was provided if you are cooking a larger meal the single pan would not be enough despite giving a couple of opinions the stay and the accommodation was outstanding. Thank you
---
Real reviews for hotels
The main prom was great with plenty to do, it was well maintained and the beach was clean. The back streets and shopping area was disappointing and looked run down and tacky!
Blackpool is a vacation area for local people, however, it is still too cold and windy for us to leisure there.
Chat Chuen
, Hong Kong SAR, China
Main reason we go to Blackpool is for the dancing in the Tower Ballroom. We also enjoy walking the prom or beach North/South Shore There is also becoming more quality restaurants The council are obviously trying to improve cleanliness on the front the trams are a big improvement
Have been visiting Blackpool for many years and it has a charm all its own. The Pleasure beach continues to attract, the horse drawn carriages , Harry Ramsdens, the piers with the various entertainments, the Tower itself.
---
Frequently asked questions
What are the best resorts in Blackpool for two guests?
Places to stay in Blackpool that are widely rated by couples include Grand Hotel Blackpool, Imperial Hotel Blackpool and The Ruskin Hotel.
What accommodations in Blackpool offers the best views?
Verified tourists to Blackpool have given top evaluations for the views at The Bromley, Vinnie's Family Hotel and The Big Blue Hotel - Blackpool Pleasure Beach.
What are the top rated accommodations around Blackpool intended for individual travelers?
Resorts found in Blackpool which are very highly rated by single tourists are Norbreck Castle Hotel, Grand Hotel Blackpool and Imperial Hotel Blackpool.
What hotels found in Blackpool are exceptionally rated with respect to sanitation?
Propertiesin Blackpool which is exceptionally rated for cleanliness include The Carlton, The Colwyn Hotel - near Pleasure Beach and The Penrhyn.
What places to stay around Blackpool are very highly rated regarding location?
Resortsfound in Blackpool which is well rated regarding location include The Carlton, The Colwyn Hotel - near Pleasure Beach and Craig-y-Don.
What resorts around Blackpool are exceptionally rated with respect to value for money?
Resortsin Blackpool that is highly rated with regards to value for money include The Carlton, The Colwyn Hotel - near Pleasure Beach and The Penrhyn.
What places to stay found in Blackpool are well rated for room comfort and quality?
Accommodationsfound in Blackpool which is exceptionally rated for room comfort and quality include Craig-y-Don, The Old Coach House and The Headlands.
What are the top rated places to stay found in Blackpool that includes airport transfer?
Properties that has airport transfer located in Blackpool that are well rated include The Corona , The Corona and Vibe Holiday Apartments.
What are the top rated properties around Blackpool which have restaurants?
Resorts which have restaurants found in Blackpool which are highly rated include The Corona and Windsor House.
What are the best places to stay found in Blackpool which have bars?
Hotels that have bars around Blackpool that are highly rated include The Corona and Windsor House.
What are some forthcoming holidays in Blackpool?
Holidays that are coming up in city_name consist of Christmas Day on 12/25/2023, Boxing Day on 12/26/2023, and New Year's Day on 1/1/2024.
Is covid test upon arrival required for fully vaccinated foreigners to enter Blackpool?
COVID-19 test may be required on arrival when entering Blackpool from outside the country. For updated and in depth information on travel restrictons, please make sure to visit the official websites of the travel authority or government of the country you wish to travel to, or go to here.
Explore more travel vacation rentals
More about Blackpool
Discover the Fun Facts about Blackpool, UK
Blackpool is a seaside resort town located in the northwest of England. This town is famous for its sandy beaches, amusement parks, and iconic tower. Blackpool has a rich history that dates back to the early 19th century when it was a small fishing village. Today, it is a vibrant and bustling town that attracts millions of tourists every year. Did you know that Blackpool is home to the oldest electric tramway in the world? The Blackpool tramway has been running since 1885 and is a must-try experience for visitors. Another fun fact about Blackpool is that it has the biggest dance floor in Europe. The Blackpool Tower Ballroom is a stunning venue that is famous for its unique architecture and impressive dance floor.
Reasons Why Blackpool Should Be on Your Travel List
Blackpool is an ideal destination for travelers who are looking for a fun-filled vacation. This town has something for everyone, whether you are traveling with family, friends, or solo. The sandy beaches are perfect for sunbathing and swimming, and the amusement parks are a great way to spend the day with your loved ones. Blackpool is also home to a range of cultural attractions, such as the Blackpool Tower, the Winter Gardens, and the Grand Theatre. If you are a fan of dance, you'll love the Blackpool Dance Festival, which is held every year in May. This festival attracts thousands of dancers from all over the world and is a must-see event for anyone interested in ballroom dancing.
How to Travel to Blackpool: Tips and Tricks
Blackpool is easily accessible by road, rail, and air. If you are traveling by car, the M55 motorway connects Blackpool to the rest of the UK. If you prefer to take the train, there are regular services from London, Manchester, and other major cities. If you are flying, the nearest airport is Manchester Airport, which is about an hour's drive from Blackpool. Once you arrive in Blackpool, you can get around by bus, tram, or taxi. The Blackpool tramway is a great way to see the town and is a popular tourist attraction in its own right.
Top Fun Things to Do in Blackpool for an Unforgettable Experience
Blackpool has a wide range of attractions that will keep you entertained throughout your stay. One of the most popular attractions is the Blackpool Tower, which offers stunning views of the town and the coast. You can also visit the Tower Ballroom and watch a dance show or try your hand at ballroom dancing. If you are traveling with kids, they will love the Blackpool Pleasure Beach, which is home to some of the best roller coasters in the UK. The Sandcastle Waterpark is another great attraction for families, with its range of water slides and pools. If you are interested in history, you can visit the Blackpool Illuminations, which is a light show that has been running since 1879.
Why Book Your Blackpool Hotel with Agoda.com
If you are planning a trip to Blackpool, you should consider booking your hotel with Agoda.com. Agoda.com offers a wide range of hotels in Blackpool to suit every budget and preference. Whether you are looking for a luxury hotel or a budget-friendly option, Agoda.com has something for you. You can also read reviews from other travelers to help you make an informed decision. Another advantage of booking with Agoda.com is that you can earn reward points that you can use to get discounts on future bookings.
The Best Time to Visit Blackpool: A Seasonal Guide
The best time to visit Blackpool depends on your preferences and interests. If you are looking for warm weather and sunny skies, the summer months (June to August) are the best time to visit. This is also the peak season, so expect crowds and higher prices. If you prefer cooler weather and fewer crowds, the spring (March to May) and autumn (September to November) are good times to visit. Winter (December to February) is the quietest time of year, but you can still enjoy the Blackpool Illuminations and other winter events.
Traveler's Guide to Blackpool: Tips You Need to Know
If you are planning a trip to Blackpool, there are a few things you should know before you go. Firstly, Blackpool can get crowded during the peak season, so it's a good idea to book your hotel and attractions in advance. Secondly, the weather in Blackpool can be unpredictable, so be prepared for rain or cooler temperatures. Finally, Blackpool is a safe town, but like any tourist destination, you should be aware of pickpockets and other petty crimes.
Where to Stay in Blackpool: Accommodation Options for Every Budget
Blackpool has a wide range of accommodation options to suit every budget and preference. If you are looking for a luxury hotel, you can stay at the Cliffs Hotel or the Village Hotel Blackpool. If you are on a budget, you can stay at The Lawton or the Viking Hotel- Adults Only. These hotels offer clean and comfortable rooms at affordable prices. If you prefer to stay in a guesthouse or bed and breakfast, there are many options available in the town center.
What to Eat in Blackpool: Must-Try Local Delicacies
Blackpool has a range of local delicacies that you should try during your stay. One of the most famous is the Blackpool rock, which is a hard candy that comes in a range of flavors. You can also try the Blackpool fish and chips, which is a staple of the seaside town. If you have a sweet tooth, you should try the Blackpool candy floss, which is a fluffy cotton candy that is sold on the beach.
Getting Around Blackpool: Transportation Options for Tourists
Blackpool is a compact town, and most attractions are within walking distance of each other. However, if you prefer not to walk, there are other transportation options available. The Blackpool tramway is a great way to see the town and is a popular tourist attraction in its own right. You can also take a bus or a taxi to get around. If you are planning to explore the surrounding areas, you can rent a car or take a train from Blackpool North station.