Hotels in Iquitos
Our top picks
Lowest price first
Nearest to
Best reviewed
Fast facts about Iquitos, Peru
| | |
| --- | --- |
| Accommodations | 146 properties |
| Popular hotel | DoubleTree by Hilton Iquitos |
| Popular area | Iquitos City Center |
| Nightly rates from | $110 |
| Airport | Coronel FAP Francisco Secada Vignetta International Airport |
4-star hotels in Iquitos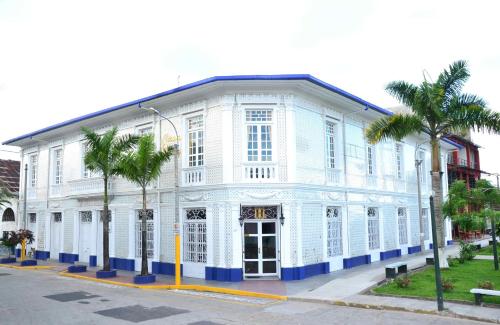 ---
As you approach this beautiful old colonial hotel (once a rich merchants property)you can see it just oozes charm like a fading star. Entering into the reception you are met with a cool air-con atmosphere, relieving the heavy sultry air of Iquitos. The wooden floorboards to the high ornate ceilings, the welcoming staff, it's an oasis in the jungle. Walking through the ...
---
Iquitos hotels with breakfast
---
Frequently asked questions
What are the most in demand accommodations in Iquitos?
Some of our most recognized places to stay in Iquitos are DoubleTree by Hilton Iquitos, Hospedaje Neydita and Otorongo Guest House.
What properties in Iquitos offers the best views?
Verified vacationers to Iquitos have given exceptional evaluations for the views at DoubleTree by Hilton Iquitos.
What's the top neighborhood in Iquitos to stay in?
Well-known communities among foreigners staying in Iquitos include Iquitos City Center, San Juan Bautista and Santo Tomas.
What are the top resorts found in Iquitos for solo vacationers?
Accommodations located in Iquitos which are well rated by lone travelers are DoubleTree by Hilton Iquitos, Hospedaje Neydita and El Dorado Classic Hotel.
What are the top resorts found in Iquitos for group visitors?
Resorts located in Iquitos that are highly rated by group vacationers are DoubleTree by Hilton Iquitos, Hospedaje Neydita and El Dorado Classic Hotel.
What properties located in Iquitos are very highly rated for hygiene?
Propertieslocated in Iquitos that is well rated regarding sanitation include Hostal Huayruro, Boulevard 251 Riverside Apartments and Fitzcarrald Hotel.
What accommodations located in Iquitos are highly rated for room comfort and quality?
Propertiesin Iquitos that is well rated with regards to room comfort and quality include Bora Hotel, Casa Morey and Nativa Apartments.
What are the prime resorts around Iquitos that has airport transfer?
An accommodation that includes airport transfer found in Iquitos which is very highly rated is La Condamine Apart Hotel.
What are the prime accommodations in Iquitos that have a private beach?
Properties with a private beach around Iquitos that are well rated include Casa Kukama Lodge, Casa Kukama Lodge and Casa Kukama Lodge.
Is quarantine mandatory for fully vaccinated tourists to enter Iquitos?
Quarantine is not required for fully vaccinated travelers to enter Iquitos from outside the country. For up-to-date and detailed information on travel restrictons, please head over to the official websites of the travel authority or government of the country you wish to travel to, or go to here.
Is evidence of vaccination mandatory to enter Iquitos?
Proof of COVID-19 vaccination is not required to enter Iquitos from outside the country. For further information, please speak to local authority or check out here.
What vaccines are recognized in Iquitos?
Oxford/AstraZeneca, Janssen (Johnson & Johnson), Pfizer/BioNTech, Sinovac, Sinopharm/BIBP are currently recognized and approved by the national health authority of the country that includes Iquitos.
Explore more travel vacation rentals
More about Iquitos
Explore the Enchanting City of Iquitos, Peru
Iquitos, the largest city in the Peruvian rainforest, is a fascinating destination for travelers who love adventure and nature. Located in the heart of the Amazon, Iquitos is a vibrant city with a rich cultural heritage and a unique blend of indigenous, European, and African influences. One of the most interesting facts about Iquitos is that it is the largest city in the world that is not accessible by road. The only way to reach Iquitos is by air or by boat, which adds to its allure and sense of remoteness. Once you arrive in Iquitos, you will be greeted by a bustling city that is home to over half a million people.
Discover the Best Time to Visit Iquitos and Experience Its Wonders
The best time to visit Iquitos is during the dry season, which runs from June to October. During this time, the weather is warm and sunny, and the river levels are low, making it easier to explore the surrounding rainforest. However, if you want to experience the full beauty of the Amazon, you should visit during the wet season, which runs from November to May. During this time, the river levels are high, and the rainforest is lush and green.
How to Get to Iquitos: A Comprehensive Guide
As mentioned earlier, the only way to get to Iquitos is by air or by boat. If you are flying, you can take a direct flight from Lima to Iquitos, which takes about 2 hours. If you are coming from other parts of Peru or South America, you may need to take a connecting flight. If you prefer to travel by boat, there are several options available. You can take a slow boat from Yurimaguas, which takes about 3 days, or a fast boat from Pucallpa, which takes about 12 hours. There are also luxury river cruises available that offer a comfortable and scenic way to travel to Iquitos.
Experience the Thrill of the Amazon in Iquitos, Peru
Iquitos is the gateway to the Amazon, and there are plenty of opportunities to explore the rainforest and its wildlife. One of the most popular activities is to take a riverboat tour of the Amazon, which allows you to see the flora and fauna up close. You can also take a jungle trek, visit indigenous communities, or go fishing for piranhas. For a truly unforgettable experience, you can stay at one of the many eco-lodges in the rainforest. These lodges offer a unique opportunity to immerse yourself in the natural beauty of the Amazon and learn about the local culture. Some of the best eco-lodges in Iquitos include the Hospedaje Neydita, Bora Hotel, and Hotel Jungle House.
Unleash Your Adventurous Side: Fun Things to Do in Iquitos
In addition to exploring the rainforest, there are plenty of other fun things to do in Iquitos. You can visit the historic city center, which is home to many beautiful colonial buildings and monuments. You can also take a tour of the Belen Market, which is one of the largest and most colorful markets in the Amazon. For a more adventurous experience, you can try your hand at zip-lining, white-water rafting, or kayaking. If you are interested in history and culture, you can visit the Museum of Indigenous Amazonian Cultures or the Ethnographic Museum.
Where to Stay in Iquitos: A Guide to the Best Hotels
If you are looking for a place to stay in Iquitos, you will find plenty of options to suit your budget and preferences. Some of the best hotels in Iquitos include the Central Bed & Breakfast, El Dorado Classic Hotel, and the previously mentioned eco-lodges. The Central Bed & Breakfast is a charming hotel located in the heart of the city center. It offers comfortable rooms, a rooftop terrace, and a restaurant that serves delicious Peruvian cuisine. The El Dorado Classic Hotel is a more upscale option that offers luxurious rooms, a swimming pool, and a spa.
Taste the Flavors of Iquitos: Must-Try Local Delicacies
Peruvian cuisine is known for its bold flavors and unique ingredients, and Iquitos is no exception. One of the most famous local dishes is the juane, which is a type of tamale made with rice, chicken, and spices. Another must-try dish is the tacacho, which is a fried ball of mashed plantains served with pork or beef. If you are feeling adventurous, you can also try some of the more exotic dishes, such as grilled suri (a type of Amazonian worm) or paiche (a large freshwater fish). To wash it all down, you can try some of the local fruit juices, such as camu camu or aguaje.
Traveling Around Iquitos: Tips and Tricks for First-Time Visitors
If you are visiting Iquitos for the first time, there are a few things you should keep in mind. First, be prepared for the heat and humidity, especially if you are visiting during the wet season. Second, make sure to bring insect repellent and sunscreen, as there are plenty of mosquitoes and the sun can be strong. Third, be aware of the local customs and traditions, especially when visiting indigenous communities. It is important to be respectful and ask for permission before taking photos or participating in any rituals. Lastly, consider booking your hotel with Agoda.com to ensure a hassle-free and affordable stay in Iquitos.
Why Book Your Iquitos Hotel with Agoda.com
Agoda.com is the perfect choice for travelers looking for affordable and hassle-free hotel bookings in Iquitos. With a wide selection of hotels to choose from, you can find the perfect accommodation to suit your needs and budget. Agoda.com also offers 24/7 customer support, so you can rest assured that you will have a smooth and enjoyable stay in Iquitos.