11 best hotels in Lonavala
Our top picks
Lowest price first
Nearest to
Best reviewed
Fast facts about Lonavala, India
| | |
| --- | --- |
| Accommodations | 1,642 properties |
| Popular hotel | Aureole Mrida |
| Popular area | Lonavala |
| Nightly rates from | $5 |
Discover the neighborhoods of Lonavala
---
4-star hotels in Lonavala
---
A two night's stay is far too short to explore all the facilities and make an opinion but there is a story to tell. It's an Eco Hotel but during my stay it was more of a Corporate Hotel with a total of three Company's staff put up there which outweighs families. Also, on one of the evenings they had closed the Gaming Room to convert to a Conference Room (for a Compan...
---
Duke's Retreat has by far the best views in Lonavala. Tourist spots are overcrowded and littered with debris, but Duke's Retreat has its own private view overlooking a valley and waterfalls. It's ultra quiet. There is no need to leave the hotel since its resturants serve wonderful, tasty food. Its staff keeps everything clean even when there are few guests there. ...
---
Reception staff very polite.... Online booking provides cheaper tarrif.. swimming pool is little small.... little (3/4km) away from the centre of the city... but not an issue if having own vehicle.. tariff was perhaps lower than other similar places..
---
Hotel was clean with decent rooms. Good ambience and facilities compared to other hotels in Lonavala. Food taste is average. Walking to the market at night might be a problem as there are not many street lights and hotel is about 700m inside from the market.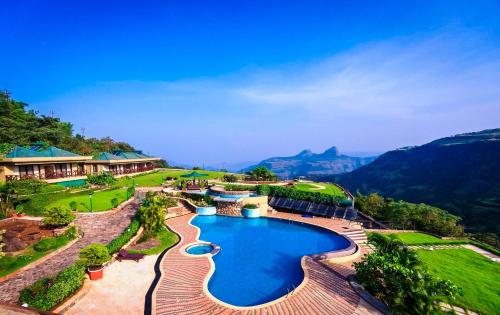 ---
Awesome place value for money and new year party was well organised over all amazing
---
Hotel is situated with best location in lonavala .Though the road conditions to the hotel from main road is one of the problem ,you will forget all once u entered resort. Rooms are specious ,clean with all amenities . Swimming pool, indoor game section is value for the money. Coming to breakfast, we got variety for the same. Once again I recommend this hotel to everyo...
---
Well maintained rooms. Huge property. Food was delicious. Staff were polite. We didn't have any trouble for service except on the last day of check out when we had to wait for almost an hour for 2 cups of tea. The swimming pool was well maintained. Location wise its close to Lonavala station, 15 mins walking. The garden area looks good but the lights are turned off so ...
---
5-star hotels in Lonavala
---
Truly awesome experience with the management and staff of Fariyas Resort Lonavala. Impeccable and Awesome dining experience, wonderful rooms, great ambience, water and adventure park, bar inside the pool, all these make this Resort as one of the best places to stay. During our stay, there were festival celebrations with games, food and lots of gifts to be won. Karaoke ...
---
When I got the deal from Agoda I was in two minds whether it was worth spending 22k for 2 nights (including breakfast). But when I landed there I could feel that I have entered in a different world, when we entered our rooms it was executive one and my wife was ecstatic and just loved the perfectness of the rooms, its interiors. Smart tv, remote controlled curtains, c...
---
A very nice place had a awesome time. Pros 1)Food is just too good 2)Hotel staff is very polite 3)Tree house restaurant staff and Chefs will go out of the way to do things. 4)Room is spacious 5) Bathroom is clean Con 1)Room flooring should be carpeted or changed 2) Washbasin need a bit of maintenance Would recommend this place to everyone to go. Will have a review on...
---
It is another 45 minutes from Lonavala Ideally make it to the facility by 11.00 am
---
Traveler impressions of Lonavala
Lonavala is a beautiful hill station, specially in the rains, its greenery is magic. One can breathe the freshness of air, which is not possible in Mumbai.
Scenic place with good nature pleasant smell !! Nice green environment!! Out of metro !! Quiet place to enjoy the vacation! Travel in summer for best enjoyment!! Better to go with family to have fun
Lonavala is best in monsoon.Frequent rainfall, water streams and water falls all around. Green Valleys and foggy mountains, it is really wonderful experience for nature lovers.
Della & Amby Valley are a must visit places. Others include bushy dam and other waterfall sites. Overall a value for money holiday destination
---
Lonavala's best hotels with breakfast
---
Frequently asked questions
What's the average price of a hotel in Lonavala tonight?
The typical price for a 3-star hotel in Lonavala this evening is USD 38. The typical price for a 4-star hotel in Lonavala this evening is USD 70. The typical price for a 5-star property in Lonavala this evening is USD 120.
What are the most in demand hotels in Lonavala?
Some of our most favorite properties in Lonavala are Zostel Plus Lonavala, Triose Boutique Hotel and Rumourss Sky Villa and Resort.
What resorts in Lonavala have the best breakfast?
Verified visitors to Lonavala have given top reviews for the breakfast at Misty Meadows Lonavala, The Dukes Retreat Resort and Hotel Planet Four.
What are the ideal accommodations located in Lonavala for group visitors?
Resorts in Lonavala which are exceptionally rated by group vacationers are Aamby Valley City, Lagoona Resort and Aureole Mrida.
What properties found in Lonavala are highly rated for service?
Accommodationsaround Lonavala which is exceptionally rated with respect to service include Aroma Villas, Par-X Mist View 9A Garden Villa 3BHK and HemPriya - 2BHK wit a Private Pool.
What are the recommended hotels around Lonavala equipped with swimming pools?
Verified tourists to Lonavala have given out exceptional reviews with regard to the swimming pools at Meritas Picaddle Resort Lonavala, Meritas Adore Resort - Lonavala and Fariyas Resort, Lonavala.
What are the very best hotels around Lonavala equipped with spas?
Verified visitors to Lonavala have given out exceptional ratings for the spa at Aamby Valley City.
What's the best accommodation in Lonavala close to a amusement park?
Highly rated places to stay located in Lonavala close to amusement park include CASA DIOS Luxury Villas, EKO STAY Gold- White Waters Villa and StayVista at The Happy Hive.
When should I visit Lonavala?
Last year, Lonavala accrued its most visitors during the month of December. Regardless, make sure to consider other months during which there are fewer vacationers, as the most popular destinations will be less packed.
How long should I remain in Lonavala?
In the past 3 months, visitors spend time in Lonavala for 1 nights on average. The best duration for your stay will be determined by what you want to see and explore while there.
Are foreign tourists allowed into Lonavala?
Foreign visitors are allowed into Lonavala, according to our most current information. Due to evolving restrictions, we recommend you visit here for further details.
Is pre-departure covid test mandatory for unvaccinated travelers to enter Lonavala?
Proof of negative pre-departure COVID-19 test may be required to enter Lonavala. For up-to-date and in depth information on travel restrictons, remember to take a look at the official websites of the travel authority or government of the country you wish to visit, or go to here.
Explore more travel vacation rentals
More about Lonavala
Lonavala is a lasting place for nature and outdoor travel. Visitors from around the world travel to Lonavala to try out just about everything this area provides, which includes the best resort hotels in Lonavala, hotels and resorts near lakes in Lonavala, and hotels with mountain views in Lonavala. Visitors take full opportunity to select the great number of hotel golf clubs in Lonavala, Lonavala center hotels near aquariums, Lonavala downtown accommodation, golf village area hotels in Lonavala, and high-rise hotels with views in Lonavala in the proximity of the finest nature areas. Cuisine that can be found with the restaurants and bars in Lonavala takes into account alternatives for many tastes. Favorite nature areas in Lonavala include Pawna Lake, Bhushi Dam, and Lion Point, which in totality create a great number of wildlife and open-air experiences and nature-based evening activities. Room options in Lonavala vary from reasonable capsules in Lonavala to expensive 5-star luxury hotel zoos in Lonavala. You can also and others for visitors of all tastes and budgets. Remember-- single-unit holiday rentals in Lonavalaare usually available for guests with more specific accommodation needs, for example multi-bedroom units near aquariums, ample balconies with city views, and concierge services to make it easier to experience the most wonderful open-air activities on golf courses in Lonavala. Top hotels near nature in Lonavala provide all effortless access with public transport to Pawna Lake, as well as restaurant options with open air selections as well. You could also reserve top hotels around Bhushi Dam, or practical accommodations close to Lion Point. The structure of Lonavala is very suited for forest villas in Lonavala, going for walks from your hotel near parks, or resorts nearby excellent nature tour offerings in Lonavala.

Lonavala is a special vacation spot for art, culture, and history travel. Visitors from around the world go to Lonavala to experience everything this place can offer, specifically the top attractions in Lonavala, monument hotels in Lonavala, and historic hotels in Lonavala. People arriving pre-book the loads of hotels near monuments in Lonavala, Lonavala center hotels near monuments, Lonavala downtown accommodation, historical area hotels in Lonavala, and high-rise hotels with views in Lonavala near monuments. Dining which is available with the eateries and bars in Lonavala comprises of flavors for all types of tastes. Some of the most traveled to cultural sites in Lonavala include Celebrity Wax Museum, Korigad Fort, and Tikona Fort, which altogether create many sightseeing memories and art-based evening activities. Accommodation and room alternatives in Lonavala vary from reasonable capsules in Lonavala to higher-end 5-star luxury hotels near historical centers in Lonavala. You may also look for quality serviced bedrooms in Lonavala, hostels in Lonavala, and more for travelers of all preferences and budgets. Remarkably, individual-unit vacation rentals in Lonavala are often readily available for travelers and tourists who have more esoteric overnight accommodation necessities, for example multi-bedroom units near monuments, spacious terraces with city views, or concierge support to assist you experience the best possible cultural activities at historical sites in Lonavala. Top-rated hotels near famous buildings in Lonavala provide convenient access by means of public transport to Celebrity Wax Museum, plus restaurant options with patio alternatives selections as well. You may also discover some of the best accommodations nearby Korigad Fort, or hassle-free and low-cost hotels close to Tikona Fort. The layout and roads of Lonavala are particularly suitable for museum hotels near Lonavala, or taking walks from your accommodation to museums, or hotels near the best museum tour services in Lonavala.

Lonavala is a well-known choice for vacationers looking for urban exploration and shopping. Travelers from across the world check out Lonavala to sample just about everything this location has got, such as malls, shopping centers, and markets. Vacationers exploit the variety of metropolitan traveler's hotels in Lonavala, Lonavala center hotels, Lonavala downtown accommodation, market hotels in Lonavala, and high-rise hotels in Lonavala near shopping areas--along with the coffee shops and Lonavala eateries that serve local specialties and various other favorites. Food in Lonavala offers alternatives for an array of tastes. The very best shopping centers in Lonavala include Hotel Ryewood Green and Lodge Dawn of Peace, which combined offer a range of shopping experiences and urban activities. Hotel alternatives in Lonavala cover all bases from inexpensive capsules in Lonavala to top end 5-star luxury hotels near shopping areas in Lonavala. Additionally, you can uncover outstanding serviced suites in Lonavala, hostels in Lonavala, and many more for travelers of most preferences and budgets. In addition, individual-unit vacation rentals might be opportunities for visitors with extra precise property necessities, for example multi-bedroom units, spacious terraces with city views, balconies with downtown views, or concierge services to assist you to find the perfect shopping activities. Top-rated hotels near market centers in Lonavala deliver simple and easy access using public transport to Hotel Ryewood Green, and also dining options with upscale atmosphere also. You can also discover top-rated hotels near Lodge Dawn of Peace. The map of Lonavala is very ample for urban shopping activities, or just browsing the shopping malls near hotel zone in Lonavala.