Hotels in Phoenix (AZ)
Our top picks
Lowest price first
Nearest to
Best reviewed
Fast facts about Phoenix (AZ), United States
| | |
| --- | --- |
| Accommodations | 3,922 properties |
| Popular hotel | The Clarendon Hotel and Spa - Adults Only |
| Popular area | Old Town Scottsdale |
| Nightly rates from | $49 |
| Airport | Phoenix Sky Harbor International Airport |
Luxury hotels in Phoenix (AZ)
---
We recently stayed at the Omni at Montelucia the second week on March. Not knowing anything about the Pheonix/Scottsdale area, I researched dozens of properties looking for a property that would work well for our family (2 adults, 9 yo, 7 yo). There are a lot to choose from but because of the deal on the Omni, we ended up going with it. We are so happy we did! The...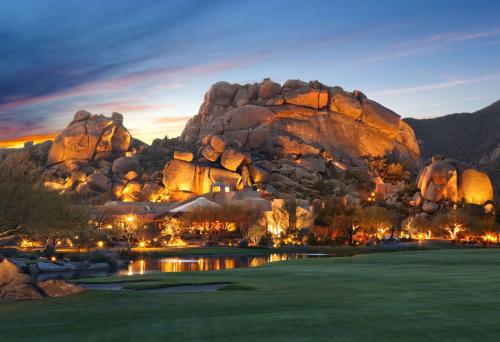 ---
We love the Boulders. Best value for the money. Great couples place. Wonderful golf course. Rooms show a bit wear but not bad. Sliding doors to outside don't slide well.....all tree years of stats. Some tiles/rocks in floors ate loose (every visit). Best to stay on Casita without room above you. Sometimes a bit noisy. Great food and service. Fantastic golf b...
---
Our stay was great. We loved being able to walk throughout the shady resort with our little ones. There were 8 pools throughout the resort and we loved that. At one point we had a pool to ourselves for the evening. The rooms were clean except for a huge yellow stain on the cloth headboard and on the cloth on the chair in the room. Parking was also horrible but I think ...
---
The rooms were very comfortable and well designed. Easy to get around in and airy and bright, with a small and open sitting area outside. Checking in and out was simple and quick. The staff was very helpful and the grounds were immaculate. The hotel is very well situated and if we find ourselves back in the area we would stay there again.
---
Real reviews for hotels
Phoenix has to be the friendliest city I have ever been to. Everywhere that we went, we were greeted with smiles and hospitality.
---
Phoenix (AZ) hotels with breakfast
---
Frequently asked questions
What's the typical price of a property in Phoenix (AZ) this Friday and Saturday?
The average price for a 3-star property in Phoenix (AZ) this Friday and Saturday is USD 157. The typical price for a 4-star property in Phoenix (AZ) this weekend is USD 264. The typical price for a 5-star resort in Phoenix (AZ) this weekend is USD 462.
What are the most well-known accommodations in Phoenix (AZ)?
A number of our most well-known hotels in Phoenix (AZ) are Found Re Phoenix, Arizona Grand Resort & Spa and Talking Stick Resort.
What's the best local community in Phoenix (AZ) to stay in?
Favorite local communities among foreigners staying in Phoenix (AZ) include Metro Center, Sky Harbor International Airport and West Mesa.
What properties located in Phoenix (AZ) are very highly rated with respect to location?
Accommodationsfound in Phoenix (AZ) which is exceptionally rated regarding location include Homestay Normal & Tiny rooms NOT A HOTEL, WoodSpring Suites Mesa Chandler and Sonder at McKinley.
What accommodations around Phoenix (AZ) are well rated with respect to service?
Propertiesaround Phoenix (AZ) which is exceptionally rated regarding service include Homestay Normal & Tiny rooms NOT A HOTEL, Renaissance Phoenix Glendale Hotel & Spa and WoodSpring Suites Mesa Chandler.
What are the most appropriate hotels in Phoenix (AZ) with spas?
Verified visitors to Phoenix (AZ) have given out top reviews for the spas at Scottsdale Plaza Resort & Villas, SureStay Hotel by Best Western Phoenix Airport and 3 Palms Hotel.
What are the most suitable wheelchair accessible properties in Phoenix (AZ)?
Wheelchair-accessible resorts around Phoenix (AZ) that are highly rated include The Canyon Suites at The Phoenician, a Luxury Collection Resort, Scottsdale and Scottsdale's Clubhouse Escape.
What attraction should I visit when I'm touring Phoenix (AZ)?
Top destinations in Phoenix (AZ) include Desert Botanical Garden, Musical Instrument Museum, and Old Town Scottsdale.
What's the best location for nightlife in Phoenix (AZ)?
Top districts for nightlife in Phoenix (AZ) are Downtown Phoenix and Camelback Corridor.
What are some forthcoming holidays in Phoenix (AZ)?
The forthcoming holidays in city_name include Thanksgiving Day on 11/23/2023, Christmas Day on 12/25/2023, and New Year's Day on 1/1/2024.
Is pre-departure covid test required for fully vaccinated tourists to enter Phoenix (AZ)?
Proof of negative pre-departure COVID-19 test may be required to enter Phoenix (AZ). For recent and detailed information on travel restrictons, please visit the official websites of the travel authority or government of the country you wish to travel to, or go to here.
Explore more travel vacation rentals
More about Phoenix (AZ)
Discover the Fascinating Fun Facts of Phoenix (AZ)
Phoenix, the capital of Arizona, is a city full of surprises. Did you know that Phoenix is the fifth-largest city in the United States? It is also the hottest city in the country, with an average temperature of 100 degrees Fahrenheit during the summer. Phoenix is home to the famous Arizona Diamondbacks baseball team and the Phoenix Suns basketball team. Another fascinating fact is that the city is surrounded by mountains, including Camelback Mountain, which is a popular hiking spot for locals and tourists.
Top Reasons Why Phoenix (AZ) Should Be Your Next Travel Destination
Phoenix has something to offer for everyone, from outdoor enthusiasts to foodies and history buffs. One of the top reasons to visit Phoenix is its beautiful natural scenery, including the Sonoran Desert, which is home to unique flora and fauna. The city is also known for its world-class golf courses, luxurious spas, and vibrant nightlife. If you're a history buff, you can visit the Heard Museum, which showcases the art and culture of Native Americans. For families with children, the Phoenix Zoo and the Children's Museum of Phoenix are great places to visit.
The Ultimate Guide on How to Go to Phoenix (AZ)
Phoenix has a well-connected airport, the Phoenix Sky Harbor International Airport, which is located just three miles from downtown. The airport serves several domestic and international airlines, making it easy to reach Phoenix from any part of the world. If you're traveling by car, Phoenix is easily accessible from major highways, including Interstate 10 and Interstate 17. If you prefer traveling by train, the Amtrak station in Maricopa, located about 30 miles from Phoenix, is the closest station.
10 Fun Things to Do in Phoenix (AZ) for an Unforgettable Experience
1. Hike Camelback Mountain: Enjoy the scenic views of the city from the top of Camelback Mountain, one of the most popular hiking spots in Phoenix. 2. Visit the Phoenix Zoo: The Phoenix Zoo is home to over 3,000 animals, including endangered species from around the world. 3. Explore the Desert Botanical Garden: The Desert Botanical Garden has over 50,000 plants, including cacti, succulents, and other desert plants. 4. Take a Hot Air Balloon Ride: Experience the stunning views of the Sonoran Desert from above on a hot air balloon ride. 5. Visit the Heard Museum: Learn about the art and culture of Native Americans at the Heard Museum. 6. Enjoy a Spa Day: Phoenix is known for its luxurious spas, where you can relax and rejuvenate. 7. Watch a Baseball Game: Catch a game of the Arizona Diamondbacks at Chase Field. 8. Visit the Papago Park: The Papago Park has several hiking trails, picnic areas, and a golf course. 9. Take a Segway Tour: Explore the city on a Segway tour and learn about its history and culture. 10. Visit the Musical Instrument Museum: The Musical Instrument Museum has a collection of over 15,000 instruments from around the world.
Why You Should Book Your Phoenix (AZ) Hotel with Agoda.com
Agoda.com is the perfect platform for booking your hotel in Phoenix (AZ). With a wide selection of hotels, including EZ 8 Motel Airporter, Premier Inns Metro, Studio 6 Mesa AZ Near Downtown & Sloan Park, Legacy Inn & Suites, and The Azure Hotel, you can find the perfect accommodation to suit your needs and budget. Agoda.com offers hassle-free booking, secure payment options, and 24/7 customer support, ensuring a stress-free booking experience.
The Best Time to Visit Phoenix (AZ) for Perfect Weather and Festivities
The best time to visit Phoenix is during the fall and winter months, from October to February, when the weather is mild and pleasant. During this time, the city hosts several festivals and events, including the Arizona State Fair, the Phoenix Open Golf Tournament, and the Arizona Renaissance Festival. The spring and summer months, from March to September, are hot and dry, with temperatures reaching up to 110 degrees Fahrenheit. However, if you're a fan of baseball, you can catch a game of the Arizona Diamondbacks during the summer months.
Expert Tips for Travelers Planning a Trip to Phoenix (AZ)
1. Drink plenty of water: Phoenix is hot and dry, so it's important to stay hydrated. 2. Wear sunscreen: Protect your skin from the sun's harmful rays by wearing sunscreen. 3. Rent a car: While Phoenix has public transportation, renting a car is the best way to explore the city and its surrounding areas. 4. Dress appropriately: Wear lightweight and breathable clothing to stay comfortable in the heat. 5. Book your hotel in advance: Phoenix is a popular tourist destination, so it's best to book your hotel in advance to avoid last-minute hassles. 6. Try the local cuisine: Phoenix has a vibrant food scene, with several restaurants serving delicious Mexican and Southwestern cuisine.
Where to Stay in Phoenix (AZ) for a Comfortable and Convenient Vacation
Phoenix has several neighborhoods to choose from, depending on your preferences and budget. Downtown Phoenix is a great option if you want to be close to the city's attractions and nightlife. If you're looking for a more upscale experience, Scottsdale is a popular choice, with several luxury hotels and resorts. Tempe, located near Arizona State University, is a great option for budget-conscious travelers. You can find several affordable hotels and motels in the area.
Must-Try Foods in Phoenix (AZ) for a Flavorful Culinary Adventure
Phoenix has a vibrant food scene, with several restaurants serving delicious Mexican and Southwestern cuisine. Some of the must-try foods in Phoenix include: 1. Tacos: Phoenix has several taquerias serving delicious tacos, including carne asada, al pastor, and fish tacos. 2. Chimichangas: A popular dish in Phoenix, chimichangas are deep-fried burritos filled with meat, beans, and cheese. 3. Salsa: Phoenix has several restaurants serving fresh and flavorful salsa, made with tomatoes, onions, and peppers. 4. Sonoran Hot Dogs: A local specialty, Sonoran hot dogs are bacon-wrapped hot dogs served with beans, onions, and salsa. 5. Margaritas: Phoenix has several bars serving delicious margaritas, made with fresh lime juice and tequila.
The Best Ways to Travel Around Phoenix (AZ) for an Easy and Affordable Tour
Phoenix has several transportation options, including public transportation, taxis, and rental cars. The Valley Metro is the city's public transportation system, with several bus routes and a light rail system. Taxis and ride-sharing services, such as Uber and Lyft, are also available. However, renting a car is the best way to explore the city and its surrounding areas, as it gives you the freedom to travel at your own pace.