11 best hotels in Reunion
Our top picks
Lowest price first
Nearest to
Best reviewed
Fast facts about Reunion, Reunion Island
| | |
| --- | --- |
| Accommodations | 2,559 properties |
| Popular hotel | Hotel Bellepierre |
| Popular area | Saint Gilles Les Bains |
| Nightly rates from | $18 |
| Airport | Roland Garros Airport |
4-star hotels in Reunion
---
We had stayed at this hotel during a mandatory stopover from Sydney to Mauritius and the airline had organised this accommodation. We enjoyed our stay but the room was average - old, musty, but spacious and had a huge bed. We booked this on our return as we decided to stay in Reunion for a few days before we went home. We ended up in what must have been an "exe...
---
Room and balcony with jacuzzi are unique and lovely Breakfast area beautiful - decent breakfast Cons: day 1 spa closed, day 2 pool closed, no happy hour to attract people to come to the bar - that opens at 6 pm, and when we arrived at 6.10, it wasn't open yet, there's no atmosphere, empty- why not propose sundowners..., very limited menu, so we ate out (Suzie Q recom...
---
The restaurant should get better staff and was very very disappointed. ..we waited for food for an hour and was then told what we ordered was not available. However the rest of the hotel was perfect. We had a very warm and informative welcome from the young man in reception upon arrival. And the recovery service for the restaurant or deal was very excellent. Will de...
---
Hotel le Boucan was our first hotal in Reunion island and we were blown away by how beautiful Saint Gilles Les Bains beach is! The hotel is just in front of the beach and their alresco restaurant offers fantastic local food - by far the best restaurant in Reunion we have tired. The hotel isnt new but kept well and the staffs are friendly.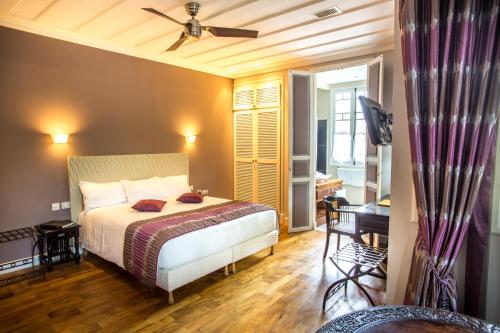 ---
We stayed at Villa Angelique for a couple of days as our base to go on two hikes in La Reunion. The villa is quaint, within 20 mins walking distance to La Barachois and the main bus stops. The street is a quiet and safe street, the villa amenities meeting our needs. The staff are friendly and better versed in French than English, but we managed to communicate alright. ...
---
Very good and before our trek very comfortable. We spent 3 days in Mercure and we recommend this hotel to any one who want to be far for the noise of The city, but you need a car.
---
The hotel, the restaurant and the staff were very good...except for one waitress/bar lady who spoiled it for us. She was arrogant, rude and aggressive and in my opinion, should not have any contact with customers. The manager, David, tried to soothe matters but she ignored him and carried on her tirade. The restaurant is worth a visit for dinner and the breakfast is a ...
---
The villa comes together with a swimming pool, fitness centre and jacuzzi. Rooms are spacious, modern, super clean, with walk-in shower. The homemade dinner was delicious and the hosts really do their best to share a moment with their guests.
---
5-star hotels in Reunion
---
We spent 7 nights and really enjoyed it. Very pleasant relaxing environment with friendly helpful staff. You are shown the facilities on arrival. There are different themed rooms so you have the option to choose depending on availability. Preferably do a request before arrival. Beach is across.the road and also restaurants on the beach. Best to have a car to get around...
---
Location on a beautiful cliff, amazing sea visits (you can spot whales right from the hotel)! Lovely pool area included it even has a jacuzzi with cliff/sea view in the open area. Breakfast is very good. Food at the hotel is generally very good but as it is a 5 star hotel quite expensive though totally worth it. Only downside: for the price the rooms are a little s...
---
Lovely hotel. Peaceful. Fantastic food. Excellent staff. Great views from the comfortable room and swimming pool.
---
We stayed in the standard room, which was perfectly good for us. Spacious, nice bed and good bathroom. The hotel personel was friendly and service was very good. The restaurants are supposed to be very good however, during our stay most of them were closed due to the fact that according to local standards it was winter(still lots of sun and warm temperatures though...
---
Traveler impressions of Reunion
Friendly place and great escapes. Must see/do will be: 1. La Fournaise volcano 2. Point du Maido 3. Salazie cliffs exploration and look for the famous "gratin chouchou" for lunch 4.
Its a very small island with lots of natural views of mountains,valleys n sea but the beaches are not that much beautiful rest all of the things are nice attractive
It's a French colony and uses Euro, a good staging place for a break to and from Europe. The beaches are good and plenty to do, food is nice and enough variety.
---
Reunion's best hotels with breakfast
---
Frequently asked questions
What are the best properties in Reunion in close proximity to Roland Garros Airport?
Verified tourists to Reunion who stayed nearby Roland Garros Airport have given top rated reviews to Villa Helena B&B, Villa Des Remparts and La Maison des Oeillets Aeroport Roland Garros.
What are the most well-known properties in Reunion?
A handful of of our most famous resorts in Reunion are Hotel Bellepierre, LUX* Saint Gilles and LE BATTANT DES LAMES.
What's the top location in Reunion to stay in?
Favorite neighborhoods amongst tourists staying in Reunion include Saint Gilles Les Bains, Saint Denis and La Possession.
What are the top rated accommodations in Reunion for group visitors?
Properties in Reunion which are exceptionally rated by group travelers are Lodge Roche Tamarin & Spa, Hotel Bellepierre and Les Aigrettes Hotel.
What properties found in Reunion are exceptionally rated with regards to sanitation?
Resortsaround Reunion that is highly rated with respect to sanitation include Le Cimendef, Matilona and Les Jardins Creoles.
What resorts located in Reunion are highly rated with respect to facilities?
Resortsfound in Reunion which is exceptionally rated regarding amenities include Le Cimendef, Auberge Desprairies and Les Jardins Creoles.
What properties found in Reunion are well rated regarding service?
Resortsfound in Reunion that is very highly rated regarding service include Le Cimendef, Auberge Desprairies and Matilona.
What are the very best places to stay found in Reunion offering airport transfer?
Hotels offering airport transfer found in Reunion that are highly rated include KAZA-Nounours Location saisonniere, Leu Magnolia - Appartement 3 etoiles a 100 m de la plage and Leu Magnolia - Appartement 3 etoiles a 100 m de la plage.
What are the most suitable properties in Reunion with a private beach?
Properties that have a private beach in Reunion which are very highly rated include La Villa Lyla, La Villa Lyla and La Villa Lyla.
Where can I find rooms in Reunion which has free cancellation policy?
Yes, you'll find most hotel rooms provide free cancellation rates, in which you can expect to receive a full refund if you cancel before the deadline. Filter your search by free cancellation to find flexible hotel offers in Reunion.
What's the best neighborhood for sightseeing in Reunion?
Top locations with plenty of tourist destinations in Reunion are Cilaos and La Plaine des Cafres.
Is quarantine required for unvaccinated foreigners to enter Reunion?
Quarantine is not required for unvaccinated foreigners to enter Reunion from outside the country. For updated and in depth information on travel restrictons, please pay a visit to the official websites of the travel authority or government of the country you wish to travel to, or go to here.
Explore more travel vacation rentals
More about Reunion
Reunion is a lasting destination for nature and outdoor travel. Tourists from across the globe flock to Reunion to sample just about everything this area has to offer, including the best nature attractions in Reunion, hotels and resorts near lakes in Reunion, and hotels with mountain views in Reunion. Vacationers take maximum opportunity to consider the great many golf resorts and spas in Reunion, Reunion center aquarium hotels, Reunion downtown accommodation, golf view hotels in Reunion, and high-rise hotels with views in Reunion next to the finest nature areas. Cuisine that can be found with the restaurants and bars in Reunion takes into account alternatives for all preferences. Popular nature areas in Reunion include Saint Gilles Les Bains Aquarium, Parc de la Trinite, and Golf de Bassin Bleu, which in totality offer a range of wildlife and outdoors experiences and nature-based evening activities. Accommodation choices in Reunion vary from low-priced capsules in Reunion to higher-end 5-star luxury hotels close to zoos in Reunion. It's also possible to and more for vacationers of all preferences and budgets. Bear in mind-- individual-unit getaway rentals in Reunionwill be readily available for visitors who have more particular overnight accommodation preferences, for example multiple-bedroom units near aquariums, large balconies with city views, and also concierge support to help you discover the most unforgettable outdoors experiences available on golf courses in Reunion. Top-rated hotels near nature in Reunion provide all simple and easy access by means of public transport to Saint Gilles Les Bains Aquarium, plus restaurant choices with open air picks also. In addition, you can book top-rated properties close to Parc de la Trinite, or hassle-free and low-cost places to stay around Golf de Bassin Bleu. The infrastructure of Reunion is certainly excellent for forest villas in Reunion, walking from your hotel near parks, or hotel accommodations in the vicinity of exceptional nature tour services in Reunion.

Reunion is a very popular choice for tourists looking for a great trip at the beach. Vacationers from across the world come to Reunion to savor everything this area can offer, including water sports, sunbathing, and lovely leisure. Travelers make the most of the wide range of outstanding beach hotels in Reunion, Reunion beach hotels, Reunion beach hotels and spas, sea view hotels in Reunion, and hotels in Reunion along or close to the beach----along with the cafes and Reunion eateriesthat serve local seafood and various other favorites. Food in Reunion offers alternatives for a myriad of tastes. Favorite beaches in Reunion consist of L'Hermitage Beach, Roches Noires Beach, and Plage des Brisants Beach, which jointly provide you with a variety of beach experiences and oceanfront activities. Holiday accommodation selections in Reunion vary from cheap bungalows in Reunion to top end 5-star luxury hotels in Reunion. It's also possible to pick great serviced rooms in Reunion, hostels in Reunion, plus more for tourists of all preferences and budgets. Moreover, individual-unit getaway rentals in Reunion are usually readily available for guests with more particular overnight accommodation preferences, for example multi-bedroom units, spacious balconies, or facilities for water sports hardware or water-sports vehicles. The very best hotels on the beach in Reunion provide stunning landscapes of the sea in the proximity of L'Hermitage Beach, and also dining choices with oceanside setting also. You may also seek top accommodations around Roches Noires Beach, or ocean view properties nearby Plage des Brisants Beach. The local weather in Reunion is exceptionally accommodating for sea recreation, or simply relaxing by the sea in the perfect area.

Reunion is an amazing vacation spot for entertainment. Travelers from all over the world go to Reunion to take advantage of anything this place has got, for instance the finest hotels with casinos in Reunion, hotels & casinos in Reunion, and luxury casinos and spas in Reunion. Arrivals benefit from great deal of hotels with theme parks in Reunion, Reunion casinos, hotels & theme parks, Reunion water park hotels, theme hotels in Reunion, and high-rise hotels with views in Reunion near theme parks. Dining arrangements that is available together with the eateries and bars in Reunion cover a wide variety of alternate options for all interests. Legendary fun areas in Reunion include Ancienne Maison des Notaires, Anciens Magasins Aubinais, and Le Bar a Cas, which jointly provide you with an array of casino experiences and water park nighttime activities. Your housing selections in Reunion vary from affordable capsules in Reunion to high-end 5-star luxury theme park hotels in Reunion. You may also seek theme packages in Reunion, hostels in Reunion, and more for tourists of most tastes and budgets. In addition, single-unit trip rentals in Reunion are an option for tourists with more personalized entertainment preferences, such as multi-bedroom units near casinos, spacious terraces with city views, or hotels with indoor theme parks or indoor water parks in Reunion. The best hotels near sports parks in Reunion give direct access with public transport to Ancienne Maison des Notaires, as well as food options with open air food also. It's also possible to discover top-rated accommodations around Anciens Magasins Aubinais, or suitable hotels around Le Bar a Cas. The map of Reunion is famously ideal for casino packages, sports holidays, and hotels and theme park packages near Reunion, or taking walks from your resort to casinos, or accommodations close to the top water sports and indoor fun excursion services in Reunion.