Hotels in Yokohama
Our top picks
Lowest price first
Nearest to
Best reviewed
Fast facts about Yokohama, Japan
| | |
| --- | --- |
| Accommodations | 674 properties |
| Popular hotel | APA Hotel & Resort Yokohama Bay Tower |
| Popular area | Yokohama |
| Nightly rates from | $13 |
| Reasons to visit | Sightseeing, Restaurants, Shopping |
Where to stay in Yokohama
---
4-star hotels in Yokohama
---
Shin Yokohama Prince Hotel is a great place to stay if you prefer being near the Train station than being near downtown Yokohama. We were able to get a double bed room for a very good price. The room was clean and bathroom as expected for a 3 star+ hotel. I have been to japan 4 times and this hotel is one I would stay at again. My wife and I visited Yokohama for 2 ...
---
Stayed there for a total of 5 nights and was easily the best western-styled hotel I had stayed thus far in Japan. Double-room was extremely spacious with a huge window facing Yokohama bay area from my room on the 17th floor (highest floor being the reception area which is on the 20th). Bathroom was separated from the toilet and the bathroom alone was extremely big. Co...
---
we stayed at kawasaki nikko hotel for the first time. it was a very nice hotel. the service was good, and the room was nicely appointed. a bit small, but relatively generous for a hotel in this price range for japan. the kawasaki jr station area is wonderful. the atre and lazona shopping complexes at the stations are unbelievable. transit to both tokyo and yokoha...
---
By Japanese standards the rooms are quite large, and furnished in an almost Scandinavian style. Everything is spotless. There was a good workdesk area and a comfortable chair with a side table, and a nice view towards downtown Yokohama. The location at the train station is great, as the hotel lobby is on the 10th floor (hotel rooms above that) and floors 2-9 most...
---
only a minute's walk to the jr station and located in the middle of the minato mirai 21 area, the new otani inn yokohama hotel is perfect for those who want to experience downtown yokohama. it is also minutes from the park, china town, and the all of the harbor attractions. the room, at least those with the harbor view, are incredible. the view in it of itself is amazi...
---
Our stay at the Daiwa Roynet was great, even before we checked in. The hotel was happy to hold our luggage for a day before officially checking in which allowed us to travel and sightsee. I would consider the hotel as 3.5 to 4 star. Great clean accom with helpful staff. They gave us a complimentary upgrade to a better room, bonus! Wifi was good and so were the amenit...
---
As someone skeptical of reviews, I booked the Rose Hotel for 4 nights as part of a travelling package of Yokohama and Tokyo. when we arrived we saw we were opposite Chinatown...a great cultural experience. The staff couldn't be friendlier, attending to our every need. it's probably the best hotel in Yokohama!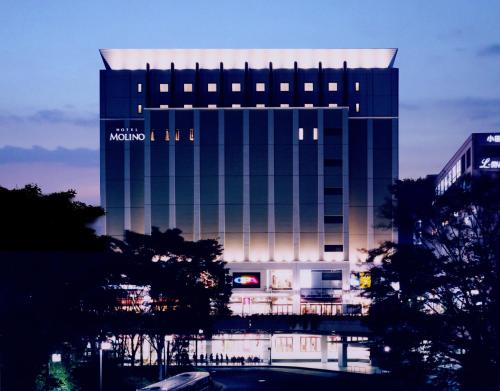 ---
I don't think there are any other hotels in Shinyuri, at least not this size. You won't be disappointed. It's not a 5 star hotel but I'll gladly stay there every time I'm in Shin-yuri. Every thing was pretty much 'average' or slightly better than average. But I have 0 complaints.
---
Very clean and comfortable! The facilities are all from the best brands (e.g., SONY, Panasonic, Zojirushi). The only thing I feel a little unexpected was that there is no coffee in the room. There are tea bags, but just not coffee. Otherwise, this is a really awesome hotel. Great cost/value! Love it!
---
Luxury hotels in Yokohama
---
The hotel is in a prime location to get around the shopping arcade in the Queen's tower and the vicinity. Great stay for who comes to conferences at Pan Pacifico Yokohama. Hotel is decorated in classic style and under some renovation to upgrade to new technology. The room has fantastic view to either the bay area with Ferris wheel or the city with Mr. Fuji in the backg...
---
Probably the best hotel in Yokohama area. Must stay at the park side to enjoy the beautiful view. Good for family holiday and/or for business trip. Should stay longer there, instead of Ikebukuro
Wai
, Hong Kong SAR, China
---
Yokohama hotels with breakfast
---
Frequently asked questions
What's the average price of a hotel in Yokohama?
The typical price for a 3-star hotel in Yokohama is USD 62. The typical price for a 4-star property in Yokohama is USD 91. The typical price for a 5-star hotel in Yokohama is USD 195.
What's the average price of a property in Yokohama this weekend?
The typical price for a 3-star resort in Yokohama this Friday and Saturday is USD 56. The typical price for a 4-star hotel in Yokohama this weekend is USD 84. The average price for a 5-star resort in Yokohama this weekend is USD 188.
What's the average price of a resort in Yokohama this evening?
The typical price for a 3-star resort in Yokohama this evening is USD 59. The typical price for a 4-star resort in Yokohama this evening is USD 82. The average price for a 5-star resort in Yokohama this evening is USD 196.
What are the best resorts in Yokohama nearby Yokohama Motomachi Shopping Street?
Verified travelers to Yokohama who stayed near Yokohama Motomachi Shopping Street have given top evaluations to Comfort Hotel Yokohama Kannai, Richmond Hotel Yokohama Ekimae and jr-east hotel mets yokohama sakuragicho.
What are the most famous hotels in Yokohama?
Some of our most famous places to stay in Yokohama are APA Hotel & Resort Yokohama Bay Tower, Far East Village Hotel Yokohama and Slash Kawasaki.
What resorts in Yokohama have the best views?
Verified tourists to Yokohama have given amazing reviews for the views at Hotel Vista Premio Yokohama Minatomirai, Hotel New Grand and The Yokohama Bay Hotel Tokyu.
What resorts in Yokohama have the best breakfast?
Verified travelers to Yokohama have given exceptional reviews for the breakfast at Richmond Hotel Premier Musashikosugi, Daiwa Roynet Hotel Yokohama-Koen and Hotel Associa Shin-Yokohama.
When should I travel to Yokohama?
Last year, Yokohama gained its most visitors during the month of August. Nevertheless, make sure to consider other months during which there are less tourists, as the most popular landmark will be less packed.
Are international visitors allowed into Yokohama?
Foreign travelers are allowed into Yokohama, according to our most up-to-date information. Due to changing restrictions, we advise you to browse here for more details.
Is evidence of vaccination required to enter Yokohama?
Proof of COVID-19 vaccination may be required to enter Yokohama from outside the country. For additional details, please reach out to local authority or visit here.
Is pre-departure covid test mandatory for unvaccinated foreigners to enter Yokohama?
Proof of negative pre-departure COVID-19 test may be required to enter Yokohama. For updated and detailed information on travel restrictons, please be sure to check out the official websites of the travel authority or government of the country you wish to visit, or go to here.
What vaccines are recognized in Yokohama?
Pfizer/BioNTech, AstraZeneca (Vaxzevria), Moderna, Janssen (Johnson & Johnson), Bharat Biotech, Nuvaxovid (Novavax) are currently recognized and approved by the national health authority of the country that includes Yokohama.
Explore more travel vacation rentals
More about Yokohama
Discovering Yokohama: Fun Facts and Reasons to Visit
Yokohama is Japan's second-largest city, located just south of Tokyo. It is known for its beautiful harbor, historic landmarks, and modern attractions. The city has a rich history that dates back to the 19th century when it was one of the first ports opened to foreign trade. Today, Yokohama is a popular destination for travelers looking to experience the unique blend of Japanese and Western cultures. One of the most interesting facts about Yokohama is that it was the birthplace of Japan's first beer. The Yokohama Brewery opened in 1889 and was the first brewery to produce beer in Japan. Another fun fact is that Yokohama is home to the world's largest Chinatown. The area is filled with colorful shops, restaurants, and temples, making it a popular destination for tourists. There are many reasons to visit Yokohama, from its beautiful parks and gardens to its exciting nightlife. One of the top attractions in the city is the Yokohama Landmark Tower, which is the second-tallest building in Japan. Visitors can take an elevator to the top of the tower for stunning views of the city and the surrounding area. Another must-see attraction is the Cup Noodles Museum, where visitors can learn about the history of instant noodles and even create their own custom cup of noodles.
How to Travel to Yokohama and Where to Stay
Getting to Yokohama is easy, as it is located just 30 minutes south of Tokyo by train. The city is served by two major airports, Narita International Airport and Haneda Airport. From either airport, visitors can take a train or bus to Yokohama. When it comes to finding a place to stay in Yokohama, visitors have plenty of options. Some of the top-rated hotels in the city include the Yokohama Royal Park Hotel, Sakuragicho Washington Hotel, Hotel Edit Yokohama, Shin Yokohama Prince Hotel, and APA Hotel & Resort Yokohama Bay Tower. These hotels offer a range of amenities, from luxurious spas and restaurants to convenient locations near major attractions.
Top Things to Do and Eat in Yokohama
There are plenty of fun things to do in Yokohama, whether you're interested in history, culture, or entertainment. One of the top attractions in the city is the Yokohama Cosmo World amusement park, which features a giant Ferris wheel and a range of thrilling rides. Another popular destination is the Sankeien Garden, a beautiful park filled with traditional Japanese architecture and landscaping. Yokohama is also known for its delicious food, with a range of local specialties that are sure to please any palate. Some of the must-try dishes in the city include shumai (steamed dumplings), ramen (noodle soup), and gyoza (pan-fried dumplings). Visitors can also sample fresh seafood at the local fish market or try a cup of coffee at one of Yokohama's many trendy cafes.
Why Agoda.com is the Best Choice for Booking Hotels in Yokohama
Agoda.com is the best choice for travelers looking to book a hotel in Yokohama. With a wide range of hotels to choose from, including some of the top-rated hotels in the city, Agoda.com makes it easy to find the perfect place to stay. The website is user-friendly and offers a range of search filters to help travelers find a hotel that meets their specific needs. In addition to its wide selection of hotels, Agoda.com also offers competitive prices and exclusive deals on hotels in Yokohama. Travelers can save money by booking their hotel through Agoda.com and taking advantage of special promotions and discounts.
The Best Season to Visit Yokohama and Essential Travel Tips
The best season to visit Yokohama is in the spring or fall, when the weather is mild and the city is filled with beautiful cherry blossoms or autumn foliage. However, Yokohama is a great destination year-round, with plenty of indoor attractions to enjoy during the winter or summer months. When traveling to Yokohama, it is important to remember that Japan is a very safe country. However, it is still a good idea to take some basic precautions, such as keeping your valuables secure and being aware of your surroundings. It is also a good idea to learn a few basic Japanese phrases, as English is not widely spoken in Yokohama.
Getting Around Yokohama: Transportation and Tourist Spots
Yokohama is a very walkable city, with many of its top attractions located within walking distance of each other. However, there are also plenty of convenient transportation options for getting around the city. The Yokohama Municipal Subway is a great way to travel between different parts of the city, while buses and taxis are also readily available. Some of the top tourist spots in Yokohama include the Yokohama Red Brick Warehouse, a historic building that now houses shops and restaurants, and the Yokohama Marine Tower, which offers stunning views of the city and the harbor. Visitors can also explore the historic Yamate district, which is filled with beautiful Western-style homes and gardens. Overall, Yokohama is a great destination for travelers looking to experience the unique blend of Japanese and Western cultures. With its beautiful parks and gardens, exciting attractions, and delicious food, there is something for everyone in this vibrant city. And with Agoda.com, finding the perfect hotel for your Yokohama adventure has never been easier.