Fast facts about Belize
| | |
| --- | --- |
| Accommodations | 765 properties |
| Popular City | Belize City |
| Nightly rates from | $10 |
Discover the regions of Belize
---
4-star hotels in Belize
---
We had a great stay here. The beach club is amazing - I went every day and didn't encounter any of the problems I read about in previous reviews regarding sea lice. I was always able to find a chair in the shade and we had a lot of fun with the paddleboards and the over-water hammocks! The resort food is expensive - the taco shack was closed for the Easter holiday so ...
---
The hotel is constantly being upgraded, the service is superb, the concierge, Catherine, is always going out of her way to make your stay in Belize an awesome one. The furniture inside Radisson is amazingly beautiful! And the food in any of the restaurants is delish Belize City is getting revamped too!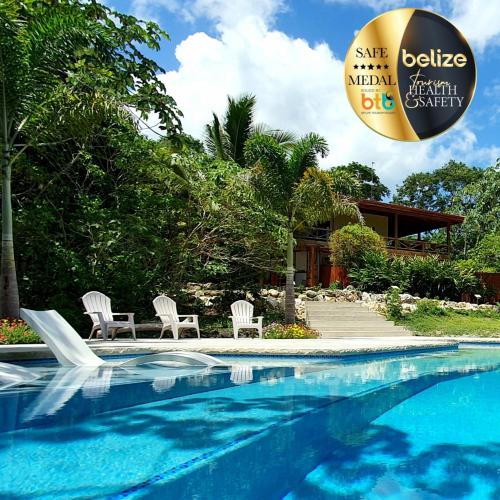 ---
I had fantasies about having the luxury jungle lodge experience in Belize and thought I couldn't afford it. But Vanilla Hills delivered! Simple luxury, fine dining (plus a well-equipped kitchen), impeccable service, gorgeous location. Claudia, Franklin, and team met all of our needs in booking tours and provided helpful advice for San Ignacio. We loved having proximi...
---
Everything you need if you're on a budget. Wifi was a bit iffy at times but sorted itself out.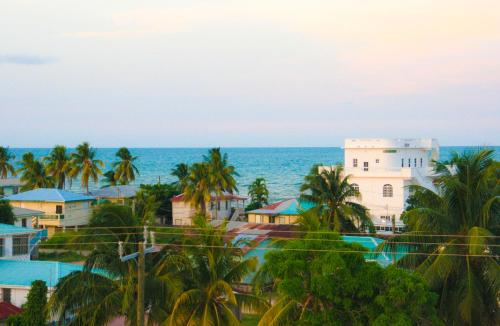 ---
This is a family-owned, no-frills hotel that is very economically priced and is in the center of Danriga. The view from the roof and third floor balcony is nice. The owners, Chad & Eleanor, are very friendly and try their best to make you feel comfortable both in the hotel and the Stann Creek area. A lot of foreigners stay here and they serve free coffee at breakfast t...
---
The Pros; Amazing staff, quiet, relaxing, clean, good food.Great fishing guide, good snorkling. The Cons; Far from everything, Belize food not on menus for dinner, pool chairs not relaxing, pool chlorine needs better regulation,Broken Pier near resort is a sore eye, bicycles look very unsafe.
---
The stay was great. Staff was extremely friendly and helpful and the location was just fantastic. Clean hotel, and overall great value for the money. A/C temperatures were off, and the wifi was only available in the courtyard, but other than that - really a great hotel for the price.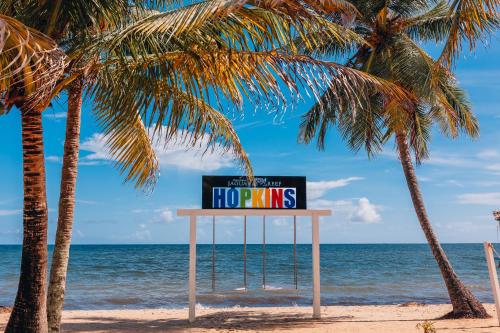 ---
They are friendly and clean. We had original book 2 rooms nut when we arrive we realize only need one room. They are happy to work with us. Most hotel won't do that for last minute.
---
Luxury hotels in Belize
---
i spent 2 nights there : nice location on the beach, cheap furniture and unconfortable bed for that level of price
---
The hotel is located a little bit outside of San Ignacio, but it is very easy to flag down a taxi from the road or maybe even walk to town if you want. The room itself was small but clean and very comfortable with working air conditioning. The staff was very friendly and always willing to help or offer assistance if they could. Overall, I really enjoyed staying here...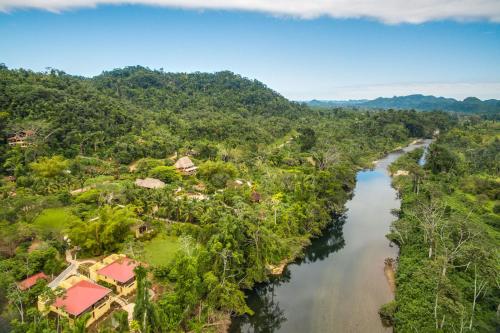 ---
My husband and I stayed here for the last part of our trip in Belize. It was the perfect set up for our honeymoon. Our room was secluded and had a private pool and jacuzzi on the balcony. When we were ready to be social, we went down to their outdoor lobby and played chess on an extra large hand carved chess board while sipping on lemon grass tea and then went and enjo...
---
Frequently asked questions
What's the average price of a hotel in Belize?
The average price for a 3-star hotel in Belize is USD 231. The average price for a 4-star hotel in Belize is USD 242. The average price for a 5-star hotel in Belize is USD 11.
What's the average price of a hotel in Belize this weekend?
The average price for a 3-star hotel in Belize this weekend is USD 217. The average price for a 4-star hotel in Belize this weekend is USD 245. The average price for a 5-star hotel in Belize this weekend is USD 11.
What's the average price of a hotel in Belize tonight?
The average price for a 3-star hotel in Belize tonight is USD 212. The average price for a 4-star hotel in Belize tonight is USD 247. The average price for a 5-star hotel in Belize tonight is USD 11.
What are the most popular hotels in Belize?
Some of our most popular hotels in Belize are Lina Point Belize Overwater Resort, Golden Bay Belize Hotel and Venus Hotel.
What are the best hotels in Belize for couples?
Hotels in Belize that are highly rated by couples include Golden Bay Belize Hotel, Lina Point Belize Overwater Resort and Bella's Backpackers Hostel.
What are the best hotels in Belize for families?
Hotels in Belize that are highly rated by families include Golden Bay Belize Hotel, Lina Point Belize Overwater Resort and Venus Hotel.
What are the most popular cities in Belize to stay in?
Popular cities among travelers staying in Belize include Caye Caulker, San Pedro, and Belize City.
What are the best hotels in Caye Caulker?
Verified travelers to Caye Caulker have given top reviews to Blue Wave Guest House, Go Slow Guesthouse and Coral View Hotel & Resort.
What are the best hotels in San Pedro?
Verified travelers to San Pedro have given top reviews to Lina Point Belize Overwater Resort, Ambergris Sunset Hotel and Mahogany Bay Resort & Beach Club, Curio Collection by Hilton.
What are the best hotels in Belize City?
Verified travelers to Belize City have given top reviews to Golden Bay Belize Hotel, Seaside Chateau Resort and The Great House Inn.
More about Belize
Discover the Best of Belize: Fun Facts and Reasons to Visit
Nestled in Central America, Belize is a small country that boasts an array of natural wonders, diverse cultures, and rich history. Here are some fun facts about Belize that you might not know: it is the only country in the region where English is the official language, it has the second-largest barrier reef in the world, and it is home to the ancient Maya civilization. But what really draws travelers to Belize are its pristine beaches, lush rainforests, and vibrant marine life. From snorkeling and diving in the crystal-clear waters to hiking and zip-lining in the jungle, there is no shortage of adventure and relaxation in Belize. If you're looking for more reasons to visit Belize, consider its affordability, friendly locals, and laid-back atmosphere. Whether you're a solo traveler, a couple, or a family, Belize has something for everyone.
Traveling to Belize: Tips, How-to's, and Where to Stay
Getting to Belize is relatively easy, with several airlines offering direct flights from the United States, Canada, and other countries. The Philip S.W. Goldson International Airport in Belize City is the main gateway to the country, but there are also smaller airports in other parts of Belize. Once you arrive in Belize, you can choose to explore the country on your own or join a guided tour. Renting a car is a popular option for those who want to have more flexibility and independence, but be aware that driving in Belize can be challenging due to the narrow and winding roads. Alternatively, you can take public transportation, which is cheap but not always reliable. When it comes to accommodation, there are plenty of options to suit every budget and preference. If you're looking for a beachfront paradise, check out Tropical Paradise or La Isla Resort, both located in the popular island of Ambergris Caye. For a more laid-back vibe, Go Slow Guesthouse in Caye Caulker is a great choice. If you want to immerse yourself in Maya culture, Cahal Pech Village Resort in San Ignacio offers traditional thatched-roof cabanas and guided tours to nearby ruins. For a budget-friendly option in Belize City, Venus Hotel is a clean and comfortable choice.
Top Things to Do in Belize: Adventure, Culture, and Nature
One of the top attractions in Belize is the Belize Barrier Reef, a UNESCO World Heritage Site that spans over 190 miles and is home to hundreds of species of fish, coral, and other marine life. Snorkeling and diving are popular activities here, and you can also take a boat tour to explore the different cayes and atolls. If you prefer to stay on land, head to the lush rainforests of Belize, where you can hike, bird-watch, and spot wildlife such as jaguars, monkeys, and toucans. Some of the best places to visit in the mainland are the Belize Zoo, the Mountain Pine Ridge Forest Reserve, and the Cockscomb Basin Wildlife Sanctuary. For a dose of culture and history, visit the ancient Maya ruins that dot Belize's landscape. The most famous ones are Tikal in neighboring Guatemala and Caracol in Belize, but there are also smaller and less crowded sites such as Xunantunich and Lamanai.
Uncovering the Best Season to Visit Belize: Weather and Festivals
Belize has a tropical climate with two seasons: the dry season (November to April) and the rainy season (May to October). The dry season is the peak tourist season, with warm and sunny weather and lower humidity. However, it is also the busiest and most expensive time to visit Belize, so be prepared to book your accommodation and activities in advance. The rainy season, on the other hand, can be a good option for budget-conscious travelers, as prices are lower and crowds are thinner. Just be aware that some roads and attractions may be closed or inaccessible due to flooding or mudslides. If you're interested in experiencing Belize's culture and traditions, consider visiting during one of the many festivals and events that take place throughout the year. Some of the most popular ones are the Belize International Jazz Festival in May, the Costa Maya Festival in August, and the Garifuna Settlement Day in November.
Indulge in Belizean Cuisine: Must-Try Dishes and Where to Find Them
Belizean cuisine is a fusion of African, Maya, Caribbean, and European influences, resulting in a flavorful and diverse culinary scene. Some of the must-try dishes in Belize include: - Rice and beans: a staple dish made with red kidney beans, coconut milk, and rice, often served with fried plantains and chicken or fish. - Fry jacks: a popular breakfast food made with deep-fried dough, usually served with refried beans and eggs. - Tamales: a traditional Maya dish made with masa (corn dough), filled with meat, vegetables, or cheese, and wrapped in banana leaves. - Conch fritters: a seafood delicacy made with conch meat, flour, and spices, served with a spicy dipping sauce. - Rum cake: a sweet and moist cake made with local rum and dried fruits, often sold in souvenir shops. You can find these and other Belizean dishes in street stalls, restaurants, and markets throughout the country. Some of the best places to try Belizean food are the San Pedro Food Tour in Ambergris Caye, the Fry Jack House in Belize City, and the Maya Center Women's Group in Stann Creek District.
Exploring Belize: Transportation, Safety, and Traveler's Tips
Before you go to Belize, make sure to check the latest travel advisories and requirements, as they may change due to the COVID-19 pandemic. It is also recommended to get travel insurance and to have a valid passport with at least six months of validity. When traveling in Belize, be aware of your surroundings and take necessary precautions, especially in urban areas and at night. Petty crime such as theft and pickpocketing can occur, so keep your valuables in a safe place and avoid carrying large amounts of cash. As for transportation, renting a car or taking a taxi can be convenient, but make sure to negotiate the price beforehand and to check the condition of the vehicle. Public transportation is cheaper but not always reliable, so plan accordingly and be prepared for delays. Finally, when booking your accommodation in Belize, consider using Agoda.com for hassle-free and affordable hotel bookings. With a wide range of options and customer reviews, Agoda.com can help you find the perfect hotel for your budget and preferences.