10 best hotels near Chinese Embassy
Our top picks
Lowest price first
Nearest to
Best reviewed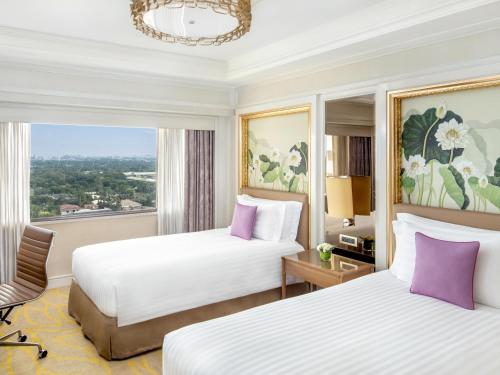 See all
Dusit Thani Manila (Multiple-Use Hotel)
Makati,Chinese Embassy - View on map
"I have stayed in many hotels in Manila over the years. Dusit is the best hotel at a very reasonable price. You can find better hotel, but at much price. The price for Dusit hotel is just a little bit higher than a 3 star hotel, but what you get is close to 5 star. Great location for restaurant,shopping and close to Makati. Nice quite hotel rooms with double pane windows, A/C works great, nice bathroom and plumbing (you may wonder why I comment on plumbing, if you travel to Manila often, you will understand). Very good comfortable bed and bedding. Excellent service and great restaurants inside hotel. Grand lobby, excellent gym with first class equipment (don't miss that while you stay at the hotel), great pool (nice water quality and temperature, just long enough for a few short laps. Security is excellent, you need the card key to operate the elevator to get to your floor. The exterior of the hotel does not look like much, but it is the best hotel in this price range. "
Show more
Avg price per night
$ 137
See all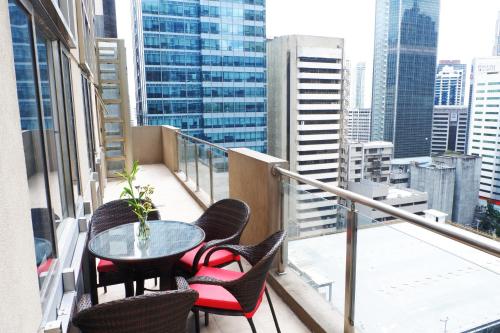 See all
Valero Grand Suites by Swiss-Belhotel (Multi-Use Hotel and Staycation is Allowed)
Makati,Chinese Embassy - View on map
"Cons: it was New Year's Eve and the hotel was booked solid. At least one or maybe two elevators were not working, there was a long queue to go up and down. The elevator even skipped our floor on the way down and the stairwell was not available for guest use that day. Pros: We booked last minute but front desk was able to quickly check us in and find us a nice room on upper floor. We needed to find dinner as most placed were closed or closing for NYE. Reception staff found us a nice sushi place very nearby and called ahead to let them.know we were on our way. Hotel is very close to shopping centers and walking to many restaurants, minimart and 7/11. Directly across the street is Songkran Thai restaurant. The room was much more than we expected. Very clean with fridge, stove top, table and chairs and bug TV. Bathroom had shower and bathtub. Upon check out, the front desk found us a taxi right away. If the elevators were working that night, definitely would be all 5 stars!!"
Show more
Avg price per night
$ 101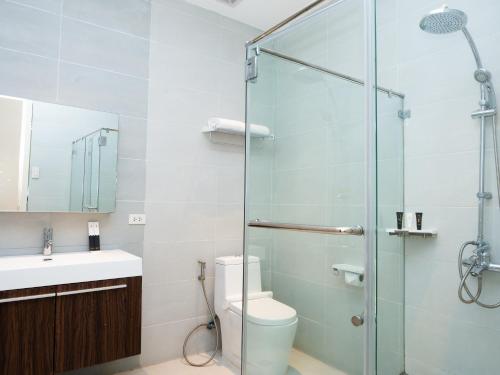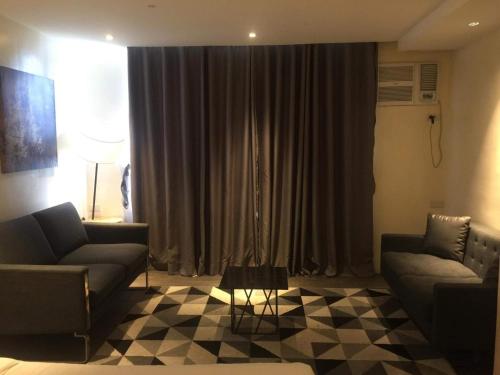 See all
City Park Hotel Manila
Bonifacio Global City (BGC) / Taguig,Chinese Embassy - View on map
"Airconditioning is great."
See all
Ascott Makati (Staycation/Multiple-Use Hotel)
Makati,Chinese Embassy - View on map
"- Located in the heart of the most prime city of Manila Philippines - Big spacious units - Definitely superb value for money! For the price you pay in other hotels -- normally you'll only get a small room, about 30 SQM. But in Ascott you get a 70 SQM Exec 1BR already! - Everything is a walking distance away - Located on top of one of the desirable shopping malls in Manila - For "staycationers" or tourists visiting Manila Ascott is the best value for money hotel - Also book via Agoda as over the counter booking will cost about 40% more than Agoda rates. "
Show more
Avg price per night
$ 210
See all
Makati Diamond Residences
Makati,Chinese Embassy - View on map
"Impeccable service, wonderful facilities, best location in Manila as it's a 5 minute walk to Makati City's Greenbelt mall and peripheral malls. Short distance to great restaurants. Drivers on demand. An absolute 5-star urban hotel. I stay there oftener business, and I now bring my finance' on most trips. in terms of convenience, size, and location - it could be the nicest hotel in Makati. Hotels like Shangri La, Peninsula, Raffles and others have gotten so crowded that you simply cannot comfortably enjoy the amenities or restaurant options. Diamond Residences has terrific restaurant and in-room dining, and the VIP amenities are outstanding: Executive Lounge is great for entertaining or winding down, The Whisky Bar is private and well appointed, the spa service is excellent. I recommend Diamond Residences to any traveler who wants a 5-star, safe, elegant experience - without hesitation!"
Show more
Avg price per night
$ 191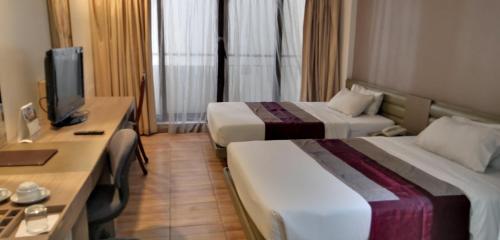 See all
The E-Hotel Makati
Makati,Chinese Embassy - View on map
"Located in the heart of Manila'a Greenbelt District just 10 minutes from Manila's airport (make sure you get a metered taxi and make sure the driver turns on the meter and it will cost you about $3-$4 USD to get to the hotel ... so tip the guy ... they are poor), The E-Hotel Makati is an ideal location to access top end shopping, embassies, entertainment, and restaurants. The hotel is small and run by very friendly, polite and helpful staff. It is located on the busy Pasay Road so make sure you request a quiet room in the back; although you will have no view, it is quiet. The rooms are clean and well-appointed with a mini-bar, large flat screen TV with multiple international channels, air conditioning, very good bed and linens, etc. The bathrooms are modern, but they have a bathtub with sliding glass doors that are precarious to get in and out of; be careful! The only other drawback is the WiFi was slow and unreliable. Overall, The E-Hotel Makati is the best value for money I have found so far in Manila and I go to this city several times a year."
Show more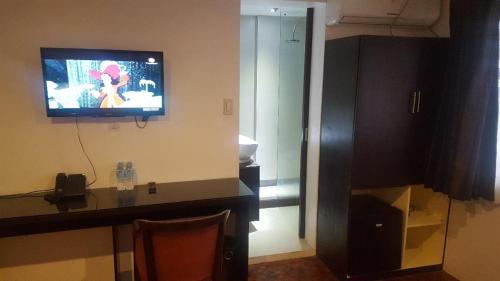 See all
Gervasia Hotel Makati
Makati,Chinese Embassy - View on map
"I booked for studio room but was upgraded to twin deluxe to my surprise, the room has a 5 star quality to it, but to a very affordable price, it's like I have a 50% discount. The hotel staff are very fast and efficient no problems in checking in, front desk is very knowledgeable, it's a really good hotel. I'm New in makati area so I appreciate their willingness to help me. The room itself is big and clean and beautiful. I was relaxed within just 2 days. I badly need vacation and I got it from Gervasia. I'd be going back to same hotel if I visit Manila again. 👌🏼"
Show more
See all
Avg price per night
$ 109
See all
The Peninsula Manila
Makati,Chinese Embassy - View on map
"You can stay at the Shangri La and pay a lot more money, and you can enjoy the aging plumbing and lights in your room. Or you can stay at the Peninsula, and enjoy being treated as a visiting family member. The location is as good as you can have in Makati. The hotel is across the street from everything. The stock exchange, the beautiful park, all the malls, Glorietta, Greenbelt, Rustans, Landmark. The view of the Manila skyline is enough to keep you looking out the window in your room for a long time. The hotel and all facilities are immaculate. Not just clean. Spotless, polished, cared for with such pride. The housekeeping staff is friendly and efficient. If you want to go out for only a few minutes, they will have your room clean and cozy when you get back. The wonderful people on the staff make every effort to do their services on your schedule, so you can enjoy your time uninterrupted. The staff at the Peninsula is by far the best asset. Every staff member makes an obvious effort to make the guest feel welcomed, appreciated, and cared for during their stay at the Peninsula. All the facilities are wonderful. The food is some of the best you can find in Makati, and and will be pleasing to all palates, no matter where you come from. The Peninsula hotel is my home in Manila. I have stayed at most of the better hotels in Makati, all of which are very good. I must say though, that the Peninsula makes me feel like I am home, and so comfortable and relaxed. My fiance and I sat outside the driveway at the entrance at 4 am, and sang songs to each other. It was quiet, peaceful, and though there were many security guards close by, they left us alone and allowed us our romantic moments. Thank you Peninsula staff !! You're all the best and most professional in the business."
Show more
Avg price per night
$ 201
Find the Perfect Type of Accommodation
---
More about Chinese Embassy
Chinese Embassy is one of Manila's most renowned sites. Secure the lowest rates for your trip with Agoda.com at any hotel near Embassies and Consulates. Whether it's the The Jeepney House by Filipinas Holiturs or the Raffles Makati Hotel, many hotels are available for you near Chinese Embassy.

Using Agoda.com's secure on-line booking form to reserve hotels close to landmarks like Chinese Embassy is quick and easy. Convenient search tools and informative hotel pages make finding Manila hotels easy. Agoda.com is trusted by over 3,500,000 travelers who book their accommodations near famous sights like Chinese Embassy.