10 best hotels near University of Asia & The Pacific
Our top picks
Lowest price first
Nearest to
Best reviewed
See all
BSA Twin Tower Ortigas
Mandaluyong,University of Asia & The Pacific - View on map
"The room was spacious and well maintained."
See all
Richmonde Hotel Ortigas
Pasig,University of Asia & The Pacific - View on map
"My family (mom, sister, and a toddler) and I stayed at Richmonde for one night last August 26 - 27. It was an advance birthday treat for my mom as well as to take advantage of that long weekend. I booked the deluxe room with 2 single beds. It included breakfast for two, free parking for 1 vehicle (you're just gonna have to find a slot. it's a first come first parked basis), a cable TV, Wi-Fi access for two devices, mini fridge with complimentary bottled water/s and some beverages you can purchase, hair dryer that we didn't use, three bath towels I think, and a couple more small ones. I love that there is always hot and cold water even in the bathroom sink. The room is well-lit and well-air conditioned. Our room was at 22nd floor so we were overlooking at the city from our window. The beds and pillows were so soft and comfy that we didn't leave the room/our bed on our first day. We swam the next morning and the water's perfectly steamed. We had a superb breakfast buffet afterwards that I enjoyed the most. It was actually the highlight of our stay. Food were all delicious, no dull ones. I think I've tried almost everything. They didn't have hotdogs though, but they have bacon, beef tapa, egg, and so much more! Our favorite was the leche flan. It was not too sweet at all but still tasted so appealing that I've come back to the buffet thrice! My mom wanted to extend our stay because she wanted to prolong her stress-free days, lol. I was glad I just booked a hotel that's only 30-minute (or less) drive from home. We all had a great time. The only thing I would recommend though is, for the management to install bidets in their toilet. It's like the first thing you're gonna need. I don't know why they still don't have it. Howover, it didn't take the vibe away and I still recommend Richmonde Hotel Ortigas! (thumps up)"
Show more
Avg price per night
$ 100
See all
Hop Inn Ortigas Center Manila
Pasig,University of Asia & The Pacific - View on map
"I was just so lucky to be part of the very first few guest to experience their super hospitality on their first day and night!"
Show more
See all
See all
Discovery Suites Hotel
Pasig,University of Asia & The Pacific - View on map
"We booked the Serendipity Suites primarily because it was the premier suites of the hotel and all of these rooms (located on the lower floors, 4th to 6th i think) were newly renovated. At check-in (which took over two hours, due to the heavy holiday rush), I showed the front desk officer my agoda.com voucher which CLEARLY stated that we were booked in the Serendipity Suites. To our surprise, after waiting for two hours to get checked in, we were taken to a one-bedroom unit, way up in the 18th floor, which was one of the older floors (i.e. rooms were not newly renovated, furnishings were out of date) and it only had a single bed (we were booked with our in-laws, we booked for a Serendipity Suite with two beds) and the room was not even cleaned properly (there were leftover drinks in the freezer, the glass covers had what i think was mold on them) I got confused as to why we were taken to this room and called guest services (after confirming with the maintenance whom we called upon to clean the room after discovering the aforementioned mess, that we were indeed, NOT on the Serendipity floor)and asked them to double check our booking and explain why we were placed on the 18th floor. The guest service officer admitted there was a mix-up and instead of offering to transfer us, offered just free breakfast vouchers! At that point, I got so irritated and demanded that we be transferred to the room where we were originally booked, because we paid top price for that room (the one bedroom suite has a huge price difference - way lower) for us to enjoy Christmas Eve with our family and that we paid the high price, primarily for the ambiance and the furnishings. In the end, the guest service officer transferred us to the serendipity Suites with two beds. And also gave us a few more free buffet breakfast tickets, a few more extra pillows, and complimentary pastries. In short, we got the room which was rightfully ours in the first place, but we had to go through a lot of hassle"
Show more
Avg price per night
$ 163
See all
Privato Ortigas
Pasig,University of Asia & The Pacific - View on map
"My stay was good . Not the greatest but you can't expect the very best for this great awesome price , anyways I was greeted fine , door opened for , the works . I had to wait about 10 minutes before I received my room key , and when i went to my room the key did not work , I had to go back down and get it corrected . The stay was comfortable , it was not a busy hotel so I felt happy about this , I had a great view of the fort and makati too , on numerous occasions I asked for a extra towel and pillow for the next time they would do room cleaning , but never got the extra towel or pillow . I enjoyed the buffet for breakfast on the 6th floor although I hope there was more options . Not bad for 250 pesos . All in all , it was a good experience . I feel like they are lacking just a bit of customer attentiveness , better quality restaurant , to get to that 4 star level . But for now I believe they deserve a 3.5 star rating ! Good job hotel privato "
Show more
See all
The Linden Suites
Pasig,University of Asia & The Pacific - View on map
"This is my third stay at Linden Suites and now regard this venue as the best accommodation in Manila. Having stayed at Pan Pacific, Manila, Dusit, Mandarin and Pen., Linden will always be my first pref as teh value for the money is the best in Manila. Most appealing about Linden is the spacious rooms and apartments which help to make you feel a great deal more comfortable that a pokey hotel room. Room furnishings are more like a home environment with very good desk(s) and ergonomic chair, stylish but not uncomfortably lavish living furnishings and excellent kitchen facilities. As a regular visitor to Manila I would be disappointed if I was unable to stay at this venue. It is clearly the best available in the 4 and 5 star bracket but without the unnecessary glitzy extras. I feel at home at Linden, and that is a great feeling to have in Manila. The staff at Linden do exactly what is required ... without fuss, bother and redundant glam. The only concern... breakfast. The only misgiving."
Show more
Avg price per night
$ 108
See all
The Exchange Regency Residence Hotel Managed by HII
Pasig,University of Asia & The Pacific - View on map
"Agoda messed up our booking: they confirmed our reservation via a third party but when we got there, the third party hadn't actually received a booking confirmation from the hotel so we had to wait for the third party to confirm our booking. This resulted in us - with an impatient and hungry 2.5 yo - having to literally wait at the lobby for FOUR hours. While front desk assured us they would honor our booking regardless, for some reason they could not check us in and give us a room as they sorted out the situation. All that aside, the hotel's location was great (Ministop, bubble tea shop, and cafe downstairs) and the room was surprisingly very spacious. Obviously the biggest draw was the pool. There were three pools (two jacuzzi type); all could definitely have been cleaner. So despite the horrible experience checking in (more the fault of Agoda than the hotel), my family and I will be back. In fact, I've made another booking to stay here during Easter. Highly recommended."
Show more
See all
The Studio 18 Residences
Pasig,University of Asia & The Pacific - View on map
"I moved from another, luxury (?) hotel (The Lancaster) to the Studio 18 Residences based on location to my business interests. I STAYED (for five additional nights) at the Studio 18 Residences based on the hotel's newness, modern comforts, great service, friendly staff, bright clean rooms, safe location, Pinoy neighborhood environment, and GREAT PRICE!! This is a HOTEL with HEART! Studio 18 Residences is a small hotel nestled in a homey neighborhood and is a bit hard to find. But, my friend, I suggest you look for it. Because treasure is never easy to find and this hotel is an absolute treasure! The attitude here is more like you're visiting family instead of staying at a hotel. You may think this hard to believe, but I even had a tip refused for service (I had called up for the staff to exchange my towels)!! A young lady, Darline, delivered the towels... AND REFUSED A TIP!! Can you believe that? This, from a hotel in the big city?!? The whole staff, Mr. Dennis, who cleans the rooms to spotless perfection, Ms. Santiago who manages the Hotel, Myla who runs the front desk, Darliene, the security guards... all of them have smiles that are GENUINE and SINCERE! This is unlike the stuffy, big, luxury (?) hotels where the uniformed staff always says 'Good Morning' and expects a tip for the effort! Studio 18 Residences has a small town heart in the middle of a big angry city! What a great escape!! The Astoria, The Crowne Plaza, the Holiday Inn, many others, all those are near. If you want to stay at a hotel with a pool, bell-boys who will break their legs climbing over each other to grab your luggage (and your tip), insincere service, stuffy environments, questionable cleanliness, snooty staff and the high expense of all that unnecessary flip-dippery and pretentiousness, then I recommend you stay at any of those places. But if you want a great, near family experience, real sincere welcoming smiles, sterling service, great rates, STAY HERE!!"
Show more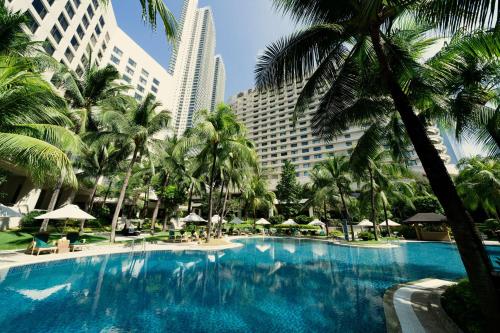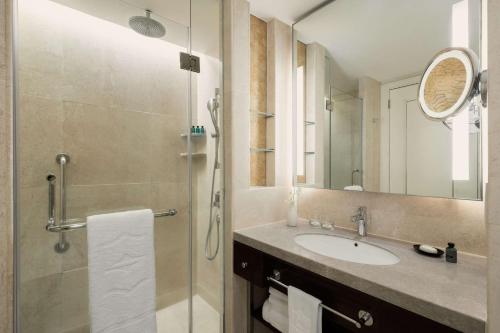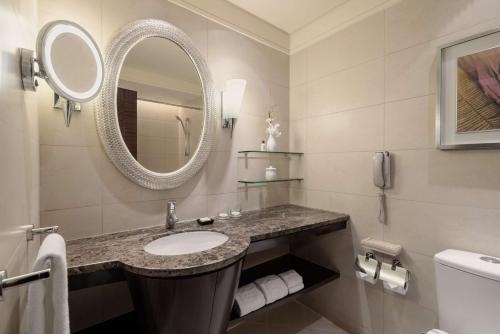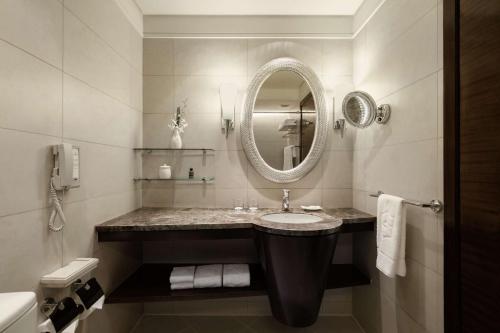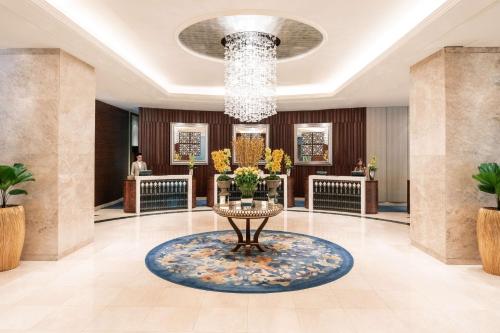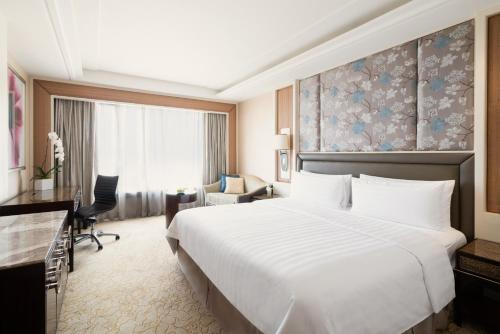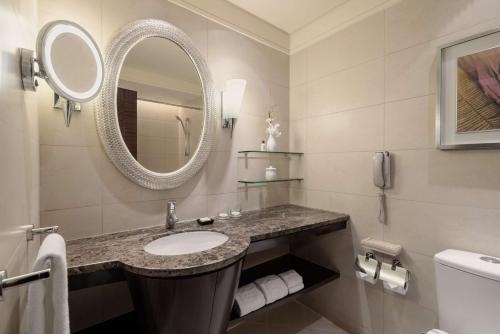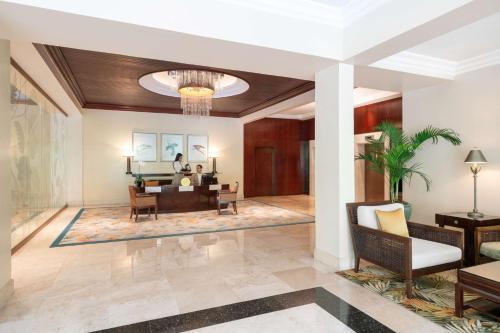 See all
Avg price per night
$ 164
In and around University of Asia & The Pacific
---
Find the Perfect Type of Accommodation
---
More about University of Asia & The Pacific
University of Asia & The Pacific is one of Manila's most renowned sites. Agoda.com exclusively offers the lowest rates at hotels near popular Colleges and Universities. University of Asia & The Pacific is close to a variety of hotels, with choices such as Hotel Sogo Cainta and Marco Polo Ortigas Manila.

Through Agoda.com's secure on-line booking form, reservations are made easy for hotels in the neighborhood of University of Asia & The Pacific. The convenient search tools and the extensive hotel information on the Manila city page make it easy to find available hotels. With availability in over 22,000 cities worldwide, more travelers today are choosing Agoda.com to search for hotels near attractions like University of Asia & The Pacific.