Discover the neighborhoods of Jharkhand
---
4-star hotels in Jharkhand
---
I stayed at the hotel for a couple of days. We had a customer event at the ballroom downstairs. The hotel is located 15mins away from the airport. The check in and check out was fast and efficient. The room service has a good menu to choose from and the room in general is very spacious and clean. Unfortunately the mini bar is not stocked and we need to only order from ...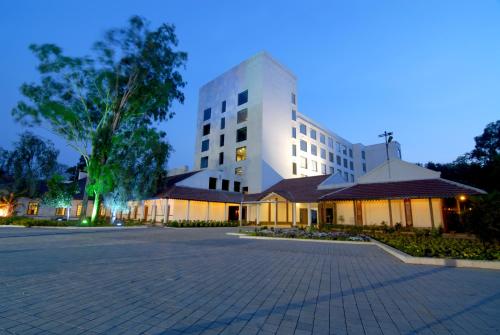 ---
The Hotel is constructed over a very large area and has lots of greenery in the campus. Though the railway station is in front of it there is no disturbance from traffic. It has a calm and serene environment. Rooms are quite clean (Do not expect 5* or above) but decent. Suite is very spacious. Though the sofa was a little dirty. Food including breakfast is quite good a...
---
Excellent. Great Food, Clean and Hygiene, New building.
---
Le Lac Sarovar Portico is well located close to the city centre but secluded from the sounds of city life. During my stay there some renovation work was going on but it did not pose too much of a disturbance. The staff were friendly and helpful especially when it came to booking a car for some whole-day sight-seeing. In particular, Ms Anju of the Front Desk went tha...
---
Rented car with driver on two days. One for transport to Ranchi airport. Good and safe drivers. Good location in Jamshedpur.
---
Ambience, room size, excellent, like a 4-star hotel. However, the dining area needs upgrading because it feels like a 2-3 star area. Other than that, a very nice hotel.
---
TV was not working in either of the rooms. There was a big rat inside the room. No geyser facilility inside the room. Management's excuse was they do not provide geyser facility inside non AC rooms. We changed the room to AC by giving the balance amount to them. Due to non availability of hot water inside our room we suffered a lot as our young Son requires hot water ...
---
PROS: Hotel is well located near the railway station. Good interiors. Reasonable staff and food. However ther is a water pressure issue in upper floors - low bath/shower water pressure in 6the floor, meybe they need to use a booster pump. Rooms and linens are clean and bed is comfortable after a tiring day out either in business or sighseeing. CONS: Wifi is not avai...
---
The hotel Reception was warm and courteous. The cleanliness was commendable, and so was the room ambience with large beds, nice working station and above all a variety in their food and liquor choices...Overall I would recommend this hotel and glad that I stayed at Cocoon. Special request to the team that they should keep up the good work
---
More about Jharkhand
While in India, be sure to explore the State of Jharkhand. Agoda.com offers big savings on 377 hotels in top locations. Our instant confirmation gives you piece of mind and more time explore popular cities such as Ranchi, Jamshedpur, Deoghar. Enjoy the quintessential Jharkhand experiences with Agoda.com as an ideal starting point. More travelers are choosing Agoda.com to book accommodation in Jharkhand, with over 170,000 hotels worldwide.