Discover the neighborhoods of Kanagawa Prefecture
---
5-star hotels in Kanagawa Prefecture
---
Moving walkways to Sakuragicho station which is central point for most trains and buses to anywhere in tourist Yokohama. Walking distance to another station Minato Mirai. Many lovely shopping malls filled with food, shops and entertainment. Supermarket and 3 convenience stores and countless restaurants and shops located in mall just downstairs. Service is impecca...
---
The hotel is remarkable. They greeted us as we were driving up. They ushered us and our belongings to a seat in the lobby. They immediately brought us welcome drinks, as we were provided the check in form. When we were finished, they came to our seats with the keys and brought us to the room. The staff was fantastic. She got us in, started the electric toilet se...
---
Convenient location. Amusement park and rides are just right below the hotel. Cup noodle museum is just walking distance. Shopping and restaurant are next to hotel. Only thing is we booked a room for 2 adult and 1 kid with breakfast and they only issue us 2 adult breakfast coupon. After checking with Agoda, they said is mistake by Agoda. The room does not include break...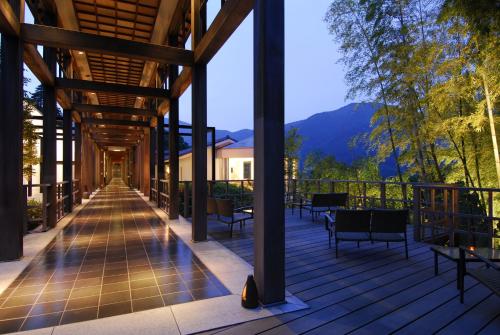 ---
Beautiful experience. Food and service were wonderful. In room deck with bath were perfect. Didn't manage to book a room with outdoor pool/jacuzzi but ended up being in our benefit as our room had the best view and the bath was perfect and enough. Food was wonderful.
---
Having previously visited Hakone ten years ago, we really wanted to return after a busy few days exploring Tokyo. Hakone Hisui is a beautiful, and relaxing retreat; a place where you can really kick back and restore the equilibrium amongst the peaceful surroundings. Please note, the hotel mainly caters to Japanese clientele, so English is not widely spoken. However,...
---
Love everything about this rokan! the fridge was filled with all kinds of drinks, the private onsen just right outside of the room, the service! dont hesitate to book this hotel
---
Must have experience during a visit to Japan. Place is not on the crowded tourist path. Most visitors are locals. If you accept the price level, this experience will be the highlight of your trip. Highly recommended.
---
More about Kanagawa Prefecture
While in Japan, be sure to explore the Prefecture of Kanagawa. Agoda.com has a fantastic range of hotels to help you make your trip to this beautiful Prefecture a memorable one. Home to 16 cities, you will never run out of things to do and places to see in this wonderful and exciting Prefecture. Just as it has hotel options to suit every pocket, Kanagawa has activities to suit every interest. More than 3,500,000 travelers have chosen Agoda.com to find the perfect hotel in Kanagawa.