Luxury hotels in Thessaloniki Department
---
We had stayed in this hotel for 5 nights and the rooms interior are excellent. It even have a balcony where you will have a good view. You can also go up to their highest level at 7 whereby you have a good 360 degree view of the city. Breakfast is standard whereby you will have the same food everyday, not a slight change.
---
Stayed one night before my flight. The location was not too bad, but I felt farer than it looks in the map. The lobby is nice and spacious, so as the room. The room has a nice work desk so it's perfect for the-last-minute work before your flight. I ordered a red house wine and pasta from room service, They were just so good. I did not have time to experience the swimmi...
---
We loved every minute of our stay at The Met. Will sure be back here when we return th Thessaloniki. Clean hotel, great pool with even better view, the staff were very prompt when required and the loved the kids, especially Dimitri the pool life guard. Location is five minutes from the main hub by taxi which was only a €4 either way plus the hotel has a transfer servi...
---
Great location to visit the city. It's a convenient luxury hotel.
---
Holiday inn Thessaloniki is so called 5 star hotel, but it is actually not. it is not located right in the center of down town but is reachable by foot. my wife and i stayed there for 2 nights and the hotel can fulfill our basic needs. one incident happened which i think it is worth sharing. I could not locked the window so I called Housekeeping to help. A man c...
---
Hotel rooms are clean and spacious. Hotel staff polite and efficient and breakfast quite good. However, all thought the hotel is far from the city centre there is no frequent free suttle bus. There was no iron inside the room -which most 5 star hotel offer- and if you asked for one not only they did not provide but suggested you use a paid service.
---
luxury boutique hotel in thessaloniki center stylish and modern polite staff excellent service comfortable bed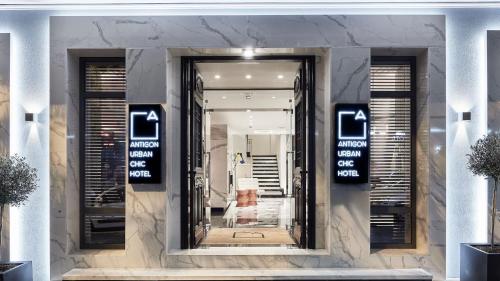 ---
Everything was delightful: the room and amenities, the fabulous breakfast, and most of all, the helpfulness of the staff. An enthusiastic thumbs-up for this hotel.
---
More about Thessaloniki Department
While in Greece, be sure to explore the Department of Thessaloniki. Search for special offers from over 767 hotels on Agoda.com. Home to 29 cities, you will never run out of things to do and places to see in this wonderful and exciting Department. The Department receives many visitors due to its unique and interesting features. Book now on Agoda.com and save up to 75% on Thessaloniki hotels.