Discover the neighborhoods of Trang Province
---
4-star hotels in Trang Province
---
This is a great resort off the beaten path. If you want to ditch the party scene and are looking for a quiet place to relax, this place should be on your list if you plan to visit Trang Province. My wife is from Krabi and we have traveled extensively throughout southern Thailand over the years. It's one of the few resorts on the island (perhaps the only resort) that ha...
---
Our stay at the Coral Garden Resort on Ko Kradan was our favorite part of our trip to Thailand. The island itself is absolutely beautiful and the location of the resort is perfect as it's a little north of where the long tail boats land and a little quieter. The staff were fantastic, they were so friendly.althoigh our favorites were Bom and Som, the massage ladies who ...
---
Trang city will be your hub stop if u r headed to any of the surrounding islands for adventure, Koh Mook, koh Kradan etc.(aprox 50min drive from Trang city to the coast/boat ) The south is not anything like the melting pot of Thailand 'BKK' , the local economy is agriculture. rubber, cashew nuts etc. local pass times is duelling bulls. "big money livestock!" Backpacke...
---
I have been through Pak Meng Beach on the way to the Trang Islands, but I had never stayed before. The Ya Talay Resort a classy newer addition here. The rooms are great, the restaurant and bar are excellent. The only problem being its location. You really need transportation here as the beach directly in front of the resort is not really swimmable and the sand is m...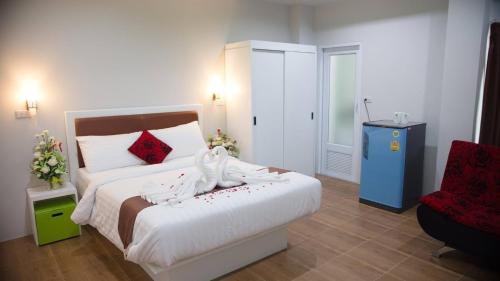 ---
HI, I STAYED ONE NIGHT, CLEAN ROOMS, FINE PEOPLE ON RECEPTION, PRICE/SERVICE RATIO VERY GOOD, AROUND CORNER GOOD THAI FOOD......JAN
---
More about Trang Province
Trang is one of the 77 regions of Thailand that travelers like to visit. Agoda.com offers big savings on 223 hotels in top locations. A visit to Trang, Koh Ngai (Trang) will make your trip to Trang worthwhile. The Province receives many visitors due to its unique and interesting features. Book now on Agoda.com and save up to 75% on Trang hotels.