Luxury hotels in Virginia State
---
Not happy with how long it is taking to resolve my billing issues I have been double charged and no one has yet to refund my money....I will not be back...Also, my family member was double charged as well...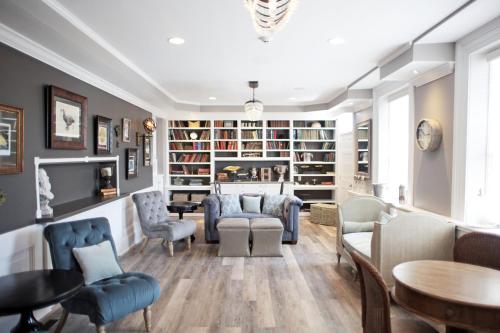 ---
We stayed for a weekend to do some hiking in the nearby national park. The room is very clean and the bed was great. That was about the extent of the good. There is skeleton staff at best. A single person is sometimes stationed at the front but was not very helpful. When we asked about a 1 hour extension to our checkout time she said yes, at $25/hr. Keep in mind ...
---
More about Virginia State
Discovering Fun Facts about Virginia, United States
Virginia, also known as the "Old Dominion" or "Mother of Presidents," is a state located in the southeastern region of the United States. It is bordered by Maryland to the north, the Atlantic Ocean to the east, North Carolina to the south, Tennessee to the southwest, Kentucky to the west, and West Virginia to the northwest. Did you know that Virginia is home to the first permanent English settlement in the Americas? Jamestown, Virginia, was established in 1607, and it was the first successful English colony in North America. Virginia is also known for its role in the American Civil War, as it was the site of many battles, including the famous Battle of Bull Run. Virginia is also known for its natural beauty, with the Blue Ridge Mountains and the Chesapeake Bay being two of the state's most popular attractions. The state is also home to many famous landmarks, including the Arlington National Cemetery, Monticello, and Mount Vernon.
Top Reasons Why Virginia Should be Your Next Travel Destination
Virginia is a state that has something to offer everyone. Whether you are interested in history, nature, or just looking for a relaxing getaway, Virginia has it all. One of the top reasons to visit Virginia is its rich history. As mentioned earlier, Virginia is home to the first permanent English settlement in the Americas, and it played a significant role in the American Civil War. Visitors can explore historic sites such as Colonial Williamsburg, Monticello, and Mount Vernon, as well as many museums and battlefields. Another reason to visit Virginia is its natural beauty. The state is home to the Blue Ridge Mountains, which offer breathtaking views and opportunities for hiking and outdoor activities. The Chesapeake Bay is also a popular destination, with its scenic views and opportunities for boating and fishing. Virginia is also known for its beaches, with Virginia Beach being one of the most popular destinations. Visitors can enjoy the sun, sand, and surf, as well as a variety of restaurants and shops.
Exploring the Best Things to Do in Virginia
There are many fun and exciting things to do in Virginia, no matter what your interests may be. Here are some of the top attractions and activities: - Visit Colonial Williamsburg: This living history museum is a must-see for anyone interested in American history. Visitors can explore the restored 18th-century town and learn about life during colonial times. - Hike the Blue Ridge Mountains: The Blue Ridge Mountains offer some of the best hiking trails in the country, with breathtaking views and opportunities to see wildlife. - Explore the Virginia Beach Boardwalk: The Virginia Beach Boardwalk is a 3-mile long oceanfront promenade that is home to a variety of restaurants, shops, and attractions. - Visit the Arlington National Cemetery: This national cemetery is the final resting place for many of America's heroes, including John F. Kennedy and the Unknown Soldier. - Tour Monticello: Monticello was the home of Thomas Jefferson, one of America's founding fathers. Visitors can tour the house and grounds and learn about Jefferson's life and legacy.
How to Travel to Virginia: Tips and Tricks
There are many ways to travel to Virginia, depending on your location and budget. Here are some tips and tricks to help you plan your trip: - By air: Virginia is home to several airports, including Dulles International Airport and Ronald Reagan Washington National Airport. Depending on your location, you may also be able to fly into Richmond International Airport or Norfolk International Airport. - By car: Virginia is easily accessible by car, with several major highways running through the state, including I-95 and I-64. - By train: Amtrak offers train service to several Virginia cities, including Richmond, Newport News, and Norfolk. - By bus: Greyhound and other bus companies offer service to many Virginia cities.
Why Book Your Virginia Hotel with Agoda.com
When it comes to booking your Virginia hotel, Agoda.com is the best choice for several reasons. Here are just a few: - Wide selection of hotels: Agoda.com offers a wide selection of hotels in Virginia, from budget-friendly options to luxury resorts. - Easy booking process: Booking your hotel with Agoda.com is quick and easy, with just a few clicks of a button. - Affordable prices: Agoda.com offers some of the most competitive prices on Virginia hotels, ensuring that you get the best deal possible. - 24/7 customer service: Agoda.com's customer service team is available 24/7 to assist you with any questions or concerns.
The Best Time to Visit Virginia: A Seasonal Guide
The best time to visit Virginia depends on your interests and what you want to do during your trip. Here is a seasonal guide to help you plan your visit: - Spring: Spring is a beautiful time to visit Virginia, with mild temperatures and blooming flowers. It is a great time to explore the state's outdoor attractions, such as the Blue Ridge Mountains and the Chesapeake Bay. - Summer: Summer is the peak tourist season in Virginia, with warm temperatures and plenty of outdoor activities. It is a great time to visit the beaches and enjoy water sports. - Fall: Fall is a popular time to visit Virginia, as the leaves change colors and the weather cools down. It is a great time to explore the state's historic sites and enjoy fall festivals. - Winter: Winter in Virginia can be cold and snowy, but it is also a magical time to visit. The state's ski resorts offer plenty of opportunities for winter sports, and the holiday season brings festive events and decorations.
Expert Tips for Travelers Visiting Virginia
Here are some expert tips to help you make the most of your Virginia vacation: - Plan ahead: Virginia is a popular destination, so it is important to plan ahead and book your accommodations and activities in advance. - Dress for the weather: Virginia's weather can be unpredictable, so be sure to check the forecast and dress accordingly. - Rent a car: While Virginia has public transportation options, renting a car is the best way to explore the state's many attractions. - Try the seafood: Virginia is known for its fresh seafood, so be sure to try some during your visit.
Where to Stay in Virginia: A Guide to the Best Accommodations
Virginia offers a wide range of accommodations to suit every budget and preference. Here are some of the best options: - Seahawk Motel: Located in Virginia Beach, the Seahawk Motel offers affordable accommodations just steps from the beach. - Coastal Hotel & Suites Virginia Beach - Oceanfront: This oceanfront hotel offers spacious rooms and suites with stunning views of the Atlantic Ocean. - Four Sails Resort: Another oceanfront option, the Four Sails Resort offers luxurious accommodations and amenities, including an indoor pool and hot tub. - Marjac Suites Virginia Beach Oceanfront: This all-suite hotel offers spacious accommodations with full kitchens and oceanfront balconies. - The Breakers Resort Inn: Located in Virginia Beach, the Breakers Resort Inn offers comfortable accommodations just a short walk from the beach.
Discovering the Best of Virginia's Cuisine: What to Eat and Where
Virginia is known for its fresh seafood, but it offers much more than that. Here are some of the best dishes to try during your visit: - Virginia ham: This salt-cured ham is a Virginia specialty and a must-try for meat lovers. - Crab cakes: Virginia is known for its delicious crab cakes, which are made with fresh crab meat and seasoned with Old Bay seasoning. - Brunswick stew: This hearty stew is a Virginia classic, made with chicken, vegetables, and sometimes even squirrel or rabbit. - Peanut soup: This unique soup is a Virginia favorite, made with peanuts and sometimes even peanut butter.
Getting Around Virginia: A Guide to Transportation Options
Virginia offers several transportation options to help you get around the state: - Car rental: Renting a car is the best way to explore Virginia's many attractions, especially if you plan on visiting multiple cities. - Public transportation: Virginia has several public transportation options, including buses and trains. - Taxis and rideshares: Taxis and rideshare services such as Uber and Lyft are available in many Virginia cities. - Walking and biking: Many Virginia cities are pedestrian and bike-friendly, making walking and biking great options for getting around.